Grilled Salmon with Miracle Noodle and Vegetables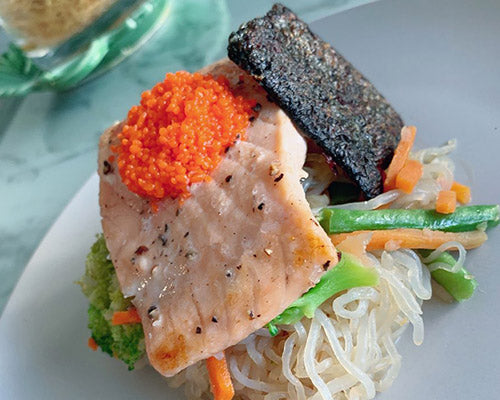 Get healthy fats from salmon with this keto-friendly Grilled Salmon with Miracle Noodle and Vegetables. Our noodles have 0 calories, 0 carbs, and is 97% water and 3% fiber.
DIRECTIONS:
1. Sauté 1 clove of garlic in olive oil, add vegetables and finally add the noodles. Put 1 tablespoon of Liquid aminos (it is a substitute for soy sauce) and voila!
2. For the salmon: Season it with lemon, salt, and pepper. Leave the skin on and put the filet in the pan skin side down. Let that brown well for 3-4 minutes before flipping. Depending on the thickness of your salmon, you will determine the time it needs to cook. (On the sides you will realize that the cooked part is lighter than the raw part so with that you will know when to remove it.) It's  recommended that you do not cook it completely in the pan (leave a very fine line of the dark tone) because the salmon continues to cook when you remove it, and if you cook it completely you run the risk of it drying out.
3. After taking it out of the pan, remove the skin. Place the skin in the pan over medium heat, turning it so that it does not burn until it is crispy. 
4. To serve, put your noodles with the vegetables, on top of the salmon with a teaspoon of caviar and crispy salmon skin on the side.