Homemade Healthy Chicken Pad Thai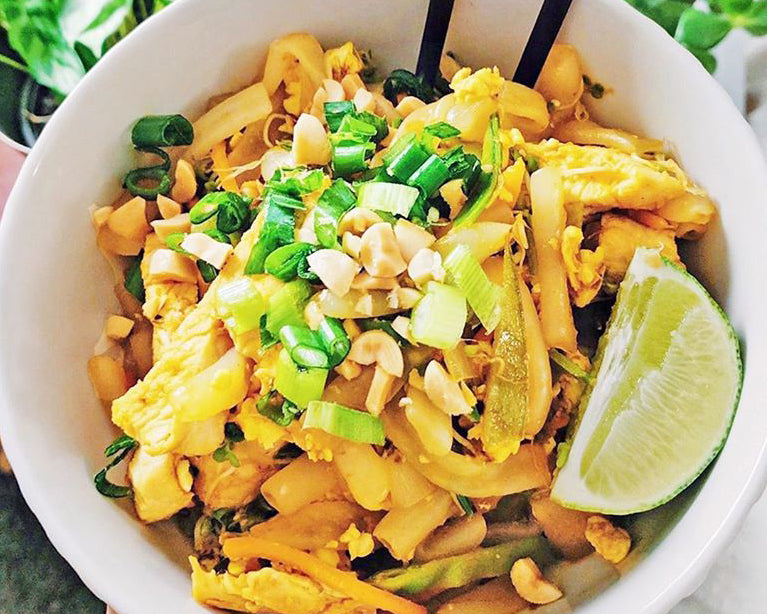 Why get take out when you can stay in and make your own healthy Chicken Pad Thai? Steph Lim used our Miracle Noodle Ziti to make this classic dish and keep the flat noodle tradition intact.
"Homemade Healthier Chicken Pad Thai! It was really pretty simple and quick to make. If you're looking for a healthier version of this takeout dish, heeeere ya go!"
INGREDIENTS:
(Serves 2)
 3/4lb (approx) Thinly sliced chicken breast
1 tbsp olive oil
1 tsp minced garlic
2 packs Miracle Noodle Ziti
4-6 tbsp Thai Kitchen Pad Thai Sauce
2 eggs, scrambled
1/2 cup shredded carrots
3/4 cup julienned snow peas
1/4 yellow onion
2 handfuls of sprouts
1/4 cup green onion chopped
2 tbsp unsalted peanuts chopped
1 lime
DIRECTIONS:
1. On the stove, heat up olive oil and garlic into a large pan or wok. Cook the chicken on both sides until slightly brown on the outside and cooked all the way through. Take out, cut into small strips, and set aside.
2. In the same pan, pour in the eggs, scramble further. Once the eggs are cooked, add in the yellow onion, carrots, and snow peas. Cook until veggies and onion are softened.
3. As they're cooking, rinse the noodles, then add them to boiling water for 2 minutes. Drain and set aside.
4. Add noodles, chicken, and sprouts to the pan, then add in the sauce and stir until evenly coated. Serve with a lime wedge and top with peanuts and green onion — enjoy!!