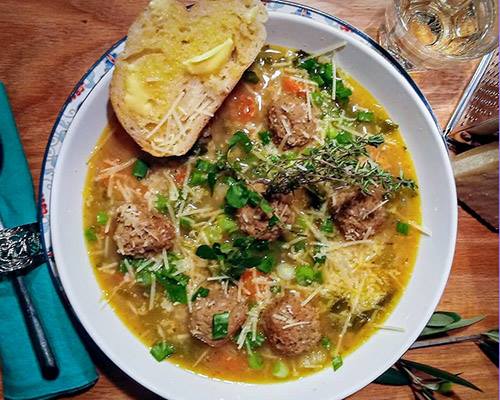 Make a quick, flavorful soup that's also vegetarian. This recipe features Calabrian spices, veg Italian meatballs, and delectable flavors infused into Miracle Rice. 
INGREDIENTS:
2 quarts favorite vegetable broth
2 packages Beyond Meat Italian-style meatballs
1-4 tsp Tutto Calabria Italian Spaghettata* spice blend (dried chili peppers, parsley, garlic, salt, dried tomatoes) 
Garlic salt to taste, blend of sea salt, roasted garlic, onion, and parsley TraderJoe's
Black pepper to taste
4 tbs butter Kerrygold USA; vegan Miyoko's
1 head garlic, minced  
2 C raw spinach, collard greens, or kale, chopped
1 1/2 C carrots, chopped
2 C sweet/yellow onion, chopped
1 1/2 C celery, chopped
1/2 cup white wine
2 packs of Miracle Noodle Miracle Rice 
1/2 C green onions, diced
Parm/Parmigiano-Reggiano
Thyme, oregano herbs
Low-carb rolls, bread Great Low Carb Bread Company; regular The Essential Baking Company
DIRECTIONS: 
1. Cook veg meatballs per instructions (I sauteed in 2 tbs butter), add to large soup pot w/broth, spices, wine, & simmer over med heat until hot.
2. Prepare Miracle Rice at the same time. Rinse 1 min, add to non-oiled skillet & heat until dry - then add w/greens to the simmering soup.
3. In a skillet, sautee rest of veggies w/ 2 tbs butter, garlic until done, add to soup. Serve w/Parm, green onions, herb garnishes, pairs w/fav bread. Buon Appetito!