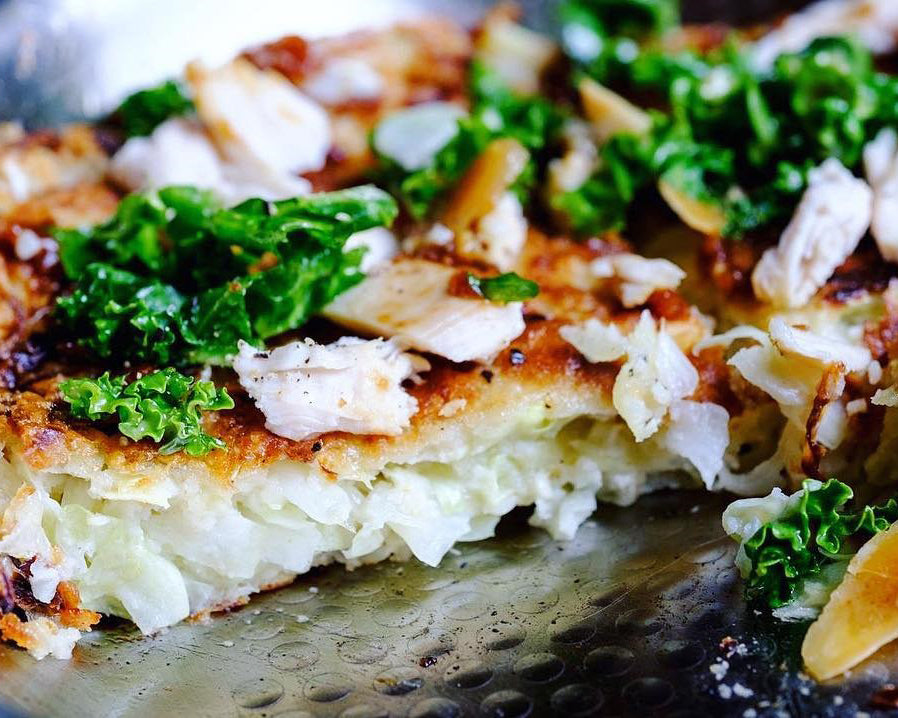 Ambassador Claudia Curici is using our purees to season her meals and add a kick of flavor! They come in Togarashi Pepper, Light Sweet Miso, Brown Rice Miso, Ginger, and Organic Umeboshi Puree. Here she used our Ginger and our Umeboshi flavors! It looks so delicious, we just had to share!
"Have you ever had cabbage pancake? I haven't, but I told ya I'm on a mission to explore Japanese flavors and cooking techniques so this morning I decided to try a Japanese cabbage pancake (Okinomiyaki).
Although it sounds kind of weird, it works and it tastes really good. What an interesting way to get your daily cruciferous intake. I checked some recipes online to get an idea, but I didn't follow any exactly. .
Note: You can add any toppings you want. I didn't add any other spices or salt and pepper because the purées are enough but feel free to season as you like. This was really yummy and I'll make it again with different toppings (you can treat it like a pizza). What do you think, would you try?" --- @creativeinmykitchen on Instagram
INGREDIENTS:
1 duck egg or 2 chicken eggs
1/4 water
1/4 cassava flour from Otto's Naturals
1 heaping cup of shredded cabbage
1 handful of shredded/grated Japanese sweet potato
Avocado oil
Leftover cooked chicken
Kale salad
Umami Puree with Ginger
Umeboshi Puree
Red radish
DIRECTIONS:
1. Mix egg with water and cassava flour. Add cabbage, cabbage, Japanese sweet potato.

2. Add the batter to my 8 in a non-stick pan with heated avocado oil, and fry for about 7-10 mins on one side until golden brown and flip it on the other slide and cook for about 7 more minutes. (Flipping is the hardest part, you have to do it carefully so it doesn't break.)

3. Add leftover chicken and kale salad. Season with Umami Purée with Ginger from Miracle Noodle and serve with red radishes seasoned with Umeboshi Puree.