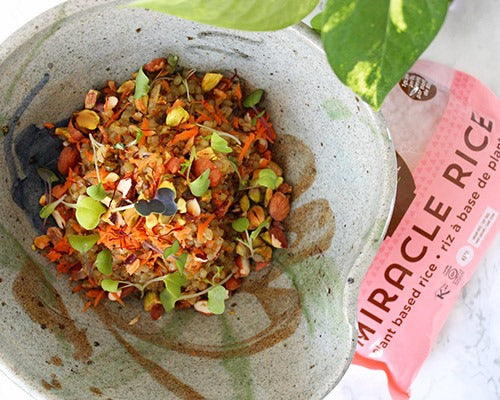 Missing rice and pasta on a low-carb, ketogenic diet? You will love this Jeweled Miracle Rice Recipe from @brownbutterbae.

INGREDIENTS:
1 bag Miracle Rice, rinsed and drained
1 tsp whole cumin seeds⠀
1 tsp whole fennel seeds ⠀
1/4 tsp ground cinnamon ⠀
2 tbsp unsalted butter⠀
1 ½ tbsp Marcona almonds, chopped⠀
1 ½ tbsp pistachios, chopped⠀
2 tbsp carrots, peeled and grated⠀
Pinch of saffron
DIRECTIONS:
1. Bring a small dry saucepan to medium heat. Toast cumin and fennel until lightly browned and fragrant.
2. Rinse Miracle Rice for 30 seconds and drain. Stir in Miracle Rice, allowing any excess water to evaporate.
3. Stir in butter, cinnamon and saffron then season with salt and pepper and remove from heat.
4. Incorporate half of the grated carrots then pour into a serving dish.
5. Garnish with remaining carrots, almonds, pistachios and chopped parsley or micro greens. Enjoy!