Kabocha Squash Cream Sauce Pasta with Crispy Pancetta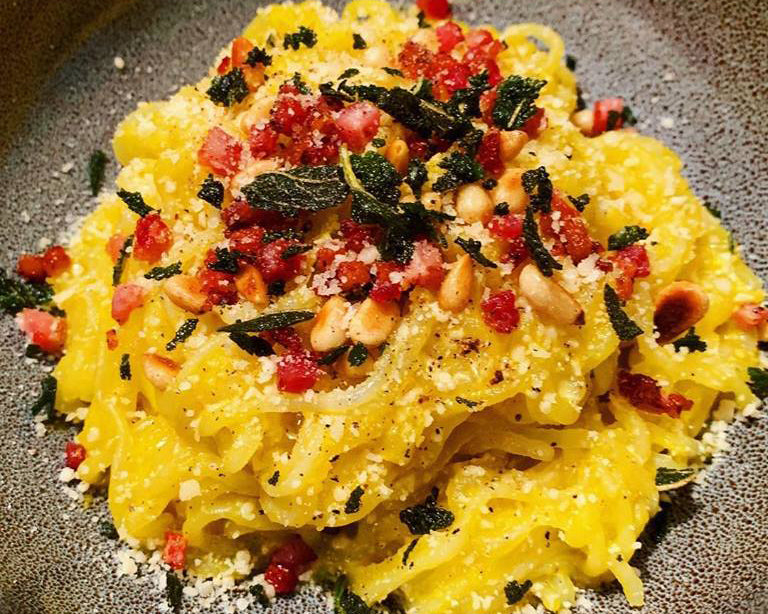 From our Ambassador and Chef Chris, comes a celebration of flavor. Check out this dish featuring our low-carb Angel Hair, squash, pine nuts, cream, and pancetta!

"KETO: Kabocha Squash Cream Sauce w/ Crispy Pancetta and Fried Sage on Miracle Noodle Angel Hair  - this is a KILLER recipe to bust out when you want to re-purpose leftover roasted squash!

There are usually all kinds of leftover roasted veggies that die in the fridge, don't let that happen! This squash when puréed is beautifully velvety, and it works perfectly as a pasta sauce. With pine nuts, Parmesan, pancetta, fried sage... it gives you that "dayuuuum, did I just make this??" response with very little effort."

Recipe by Chris Bautista AKA @bautistud on Instagram.

INGREDIENTS:
(serves 2)

3, 7oz packs of Miracle Noodle Angel Hair
1 and 1/2 cups of roasted squash or pumpkin
1/3 cup of heavy cream
2 garlic cloves (minced)
1/3 cup of chicken stock
1/2 teaspoon of nutmeg
1 tablespoon of fried sage
1 tablespoon of toasted pine nuts
4 oz of pancetta
1/2 cup of grated Parmesan

DIRECTIONS:

1. Rinse Miracle Noodle for 10-15 seconds and drain. Place in boiling water for 2 minutes and drain again. Set aside.

2. In a large saucepan, crisp the pancetta on high heat for 5 minutes. Remove from pan and set aside, save drippings in the pan.

3. In a food processor, blend squash, chicken stock, and cream until smooth. ~fry minced garlic in the pancetta drippings for 3 minutes, then add puréed squash.

4. Add nutmeg, salt, pepper, and a teaspoon of chopped sage. Heat till it begins to bubble, cover and bring heat down to a simmer for 10 minutes. (If your sauce is too thick, add additional chicken stock).

4. Add drained Miracle Noodle and Parmesan, cook for 5 minutes.

5. Garnish with pine nuts, fried sage, pancetta, and additional Park cheese. Enjoy!