Keto Braised Pork Adobo Ribs with Garlic Miracle Rice and Poached Egg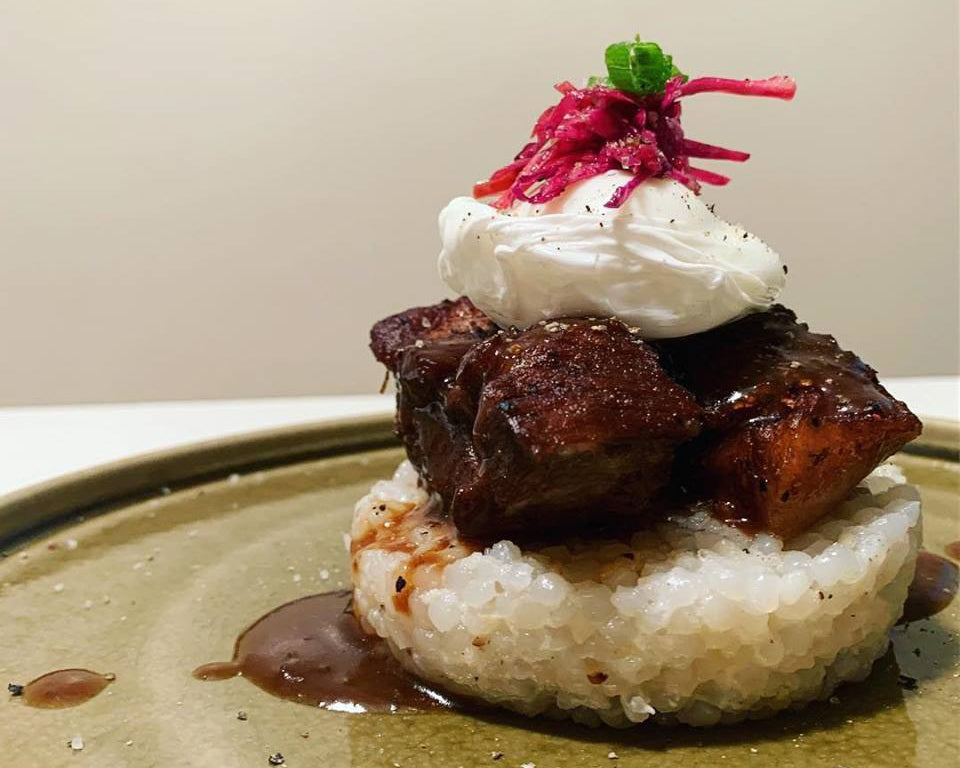 Be your own chef with this high-end looking and tasting meal from Chris Bautista! Chris shows you how you can make this delicious plate with our low-carb Miracle Rice. We think it's pretty impressive. Give it a try at home!
"My dad used to make Adobo which he'd learned to make from my great grandfather who was born and raised in the Philippines. My great grandfather was a very talented chef, I spent a lot of
 

my young years around him. In a lot of ways, this dish is symbolic of me carrying the culinary torch to the next generation. My dad changed up my grandfather's recipe, and I've changed my dad's. My great-grandfather wasn't using any @miraclenoodle rice, but I am! It works very well, I don't miss the rice at all!"

Recipe by Chris Bautista AKA @bautistud on Instagram.



INGREDIENTS:
Serves 4
2 lbs - country pork ribs 
1/2 of a large yellow onion (sliced)
4 garlic cloves - minced
1/2 cup of soy sauce
1/2 cup of rice vinegar
1/4 cup of chicken stock
3 bay leaves
1 tablespoon of ginger
2 8 oz packets of Miracle Rice 
1 tablespoon of coarsely cracked black pepper 
Green onions (garnish)
DIRECTIONS:
1. Preheat oven to 350° F (175° C).
2. Pat ribs dry with a paper towel, salt and and pepper both sides.
3. In a Dutch oven (or oven safe dish with a tight lid, a roasting tray with tin foil cover works too), heat up 2 tablespoons of olive oil on high heat. -Once the oil begins to smoke, add the ribs first (so the meat has direct contact with the bottom of the pan) immediately followed by the onions and ginger. Sear tops and bottoms, about 1.5 minutes on both sides.
4. Add garlic, black pepper, soy sauce, rice vinegar, chicken stock, and bay leaves. -Bring liquid to a rolling boil, immediately cover with a tight lid, then place on the middle rack in the preheated oven.
5. Braise for 90 minutes -After the 90 minutes, take the whole pot/pan out of the oven, and set aside to rest with the lid still covering.
6. In a frying pan, fry 3 minced cloves of garlic in olive oil on medium-high heat.
7. Add drained Miracle Rice, sauté for 3 minutes.
8. Place Miracle Rice on the base of your serving dish, top with two cuts of your adobo ribs, garnish with green onions, black pepper, and au jus from the roasting tray. Enjoy!
*OPTIONAL: Top with poached egg.