Keto Fried Rice With Veggies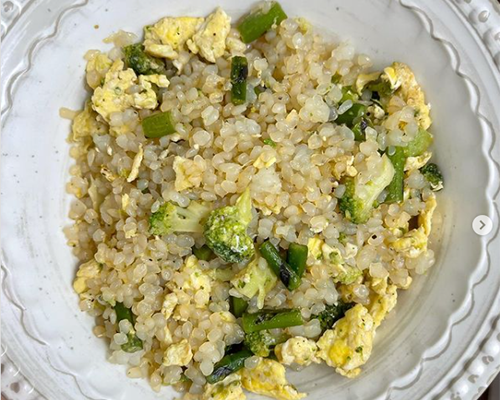 Make a healthy and tasty version of keto fried rice. Enjoy this classic rice dish without the carbs, gluten or calories.
Recipe by @nicolebertrand.nutritionist
INGREDIENTS:
Miracle Rice
Truly Grass Fed Butter
Veggies of your choice
Egg
Garlic
Onion
Salt
Pepper
Liquid aminos 
DIRECTIONS:
1. Use Miracle Rice and rinse it.
2. In a pan, put some @trulygrassfed butter.
3. Add your veggies of choice. I already have broccoli and asparagus in the freezer so it was super easy to use them.
4. Add an egg and seasoned with garlic, onion, salt and pepper.
5. Mix it well and add liquid aminos from @bragg
6. Add Miracle Rice and mix it until all is absorbed.