Keto Miracle Noodle Fettuccine with Bacon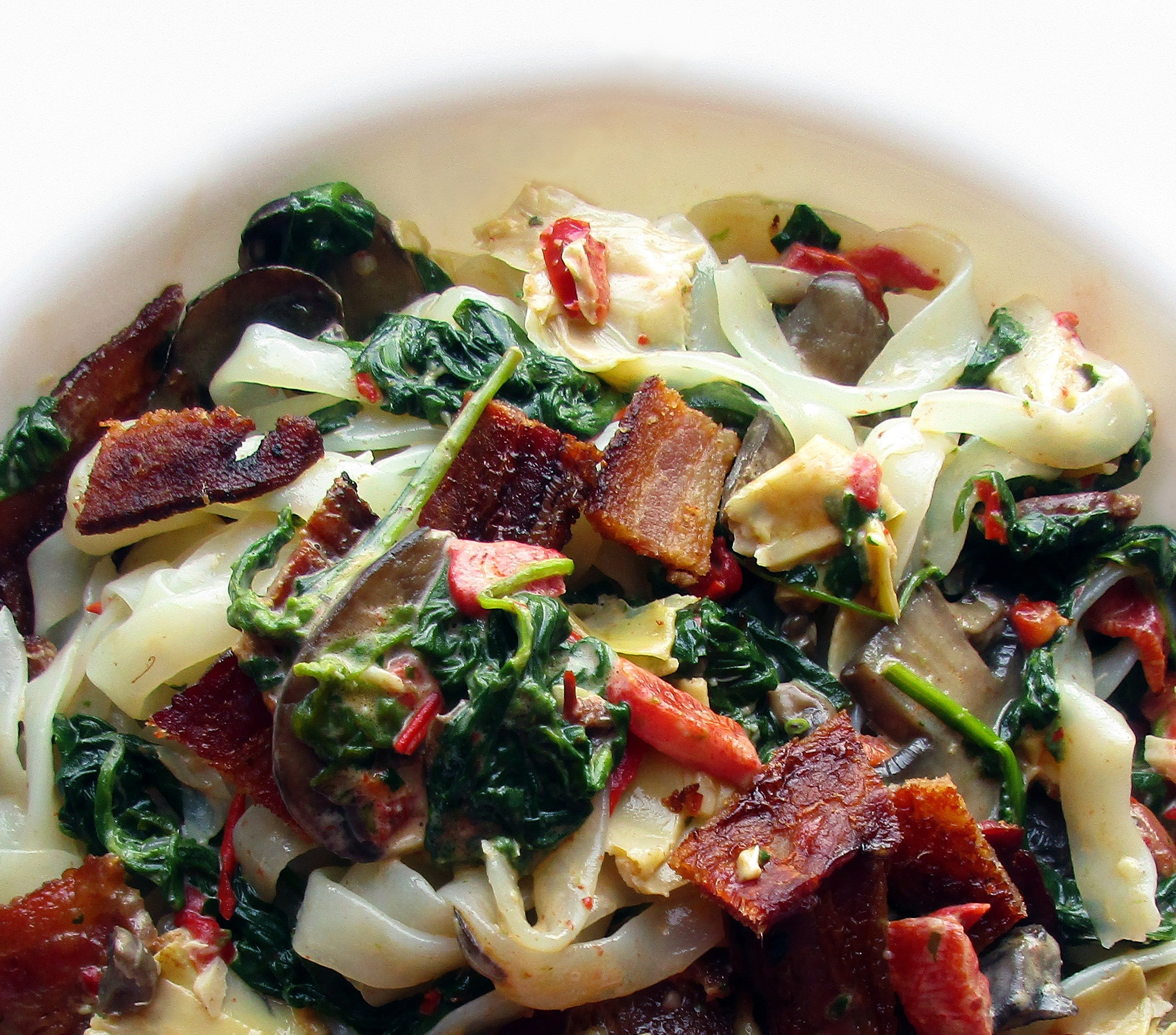 We have been challenging our Ambassadors with a Keto Friendly pasta dish, in time for the upcoming summer weekend get-togethers. Keep on track and serve up this amazing and flavorful dish from Follow Allison on Instagram for some tasty Keto creations at @ketogismama. 
"The best thing about Keto is not having to sacrifice flavor. This low carb pasta dish has it all. Check out this recipe I made and you will agree!"
Ingredients


Serves 2-3
Ingredients
2 packages of Miracle Noodle Fettuccine rinsed and drained
12 ounces of Baby spinach 
8 ounces sliced mushrooms 
1 large red bell pepper chopped
3-5 garlic cloves chopped 
14 ounce can of artichokes drained and chopped (packed in brine)
1-2 chipotle peppers from a can chopped (freeze the leftovers)
4 ounces cream cheese 
¼ cup heavy cream
5-6 slices of bacon cooked crispy and chopped (I used pre cooked)
Olive oil 
Salt 
Method
1.) First prep your veggies. Chop your peppers, garlic, artichokes and chipotles and set aside. 
2.) Put your noodles into a wide bottom dry pot and simmer noodles until all liquid is gone and noodles start to stick then remove from heat.
3.) While noodles are cooking Get a large frying pan heat up some olive oil and add sliced mushrooms sauté until slightly cooked then and add your bell peppers cooked till soft and then your garlic, artichokes and chipotles. 
4.) Add your chopped bacon. Mix well to combine.
5.) Lower heat and toss in your spinach and continue cooking until spinach is wilted down. Make sure to combine well. Add the cream cheese and a few splashes of heavy cream to loosen sauce just a little. The spinach will also release liquid. 
6.) Add your noodles to the spinach mixture and toss very well to coat all the noodles. Add more cream to loosen sauce if necessary. 
7.)Now add your salt to taste.
8.) Grab and fork and napkin, and dig in!