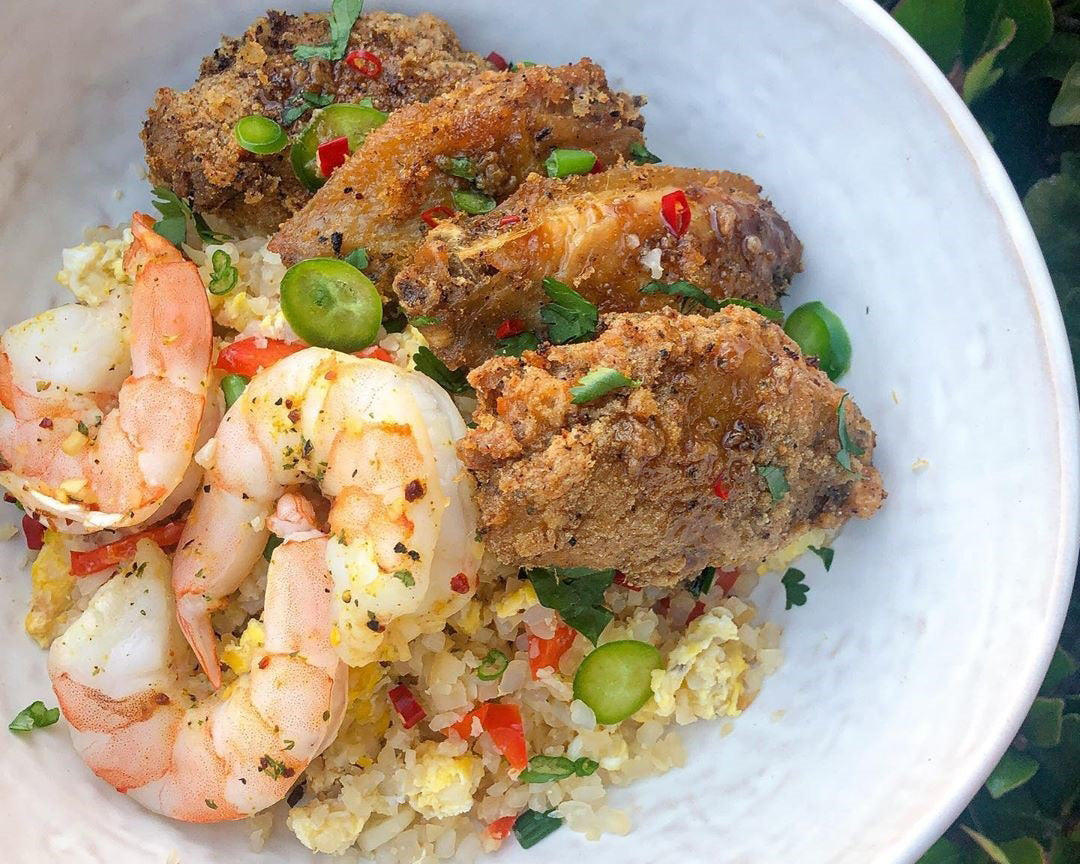 How about shrimp fried rice for the perfect side to your meal!
 Try our keto-friendly Miracle Rice to make it happen. Our Ambassador Chelsea shares how she made it below!


"This whole bowl was under 3 grams of net carbs due to Miracle Rice I used in conjunction with cauliflower rice."
Recipe by Chelsea Mercado of @pop_lock_and_keto on Instagram.⁣⁣⁣
⁣
SHRIMP FRIED RICE INGREDIENTS:
Ingredients to preference unless otherwise indicated.
⁣⁣⁣
Butter⁣⁣⁣
Shrimp⁣⁣⁣
Your favorite seasoning⁣⁣⁣
1 pack frozen cauliflower rice⁣⁣⁣
1 pack of Miracle Rice
Leeks⁣⁣⁣
1 Red bell pepper, diced⁣⁣⁣
Fat of choice (butter, oil)⁣⁣⁣
2-3 cloves garlic, minced⁣⁣⁣
1 tablespoon tamari⁣⁣⁣
Black pepper⁣⁣⁣
2-3 eggs⁣⁣⁣
⁣⁣⁣


DIRECTIONS:


⁣⁣⁣
1. Melt butter in a pan and cook your shrimp with seasoning of choice. Once cooked, separate. ⁣⁣⁣
⁣⁣⁣
2. While that's going, microwave your cauli rice for 5 minutes, let it cool, squeeze out extra moisture, and add to your frying pan to remove the rest of the moisture. ⁣⁣⁣
⁣⁣⁣
3. Prepare your Miracle Rice as directed on the bag and mix in with cauli rice. ⁣⁣⁣
⁣⁣⁣
4. Cut up some leeks and a little bit of red bell pepper and fry with your rice. ⁣⁣⁣
⁣⁣⁣
5. Push your rice to the edge of the pan and put your fat of choice in the middle along with 2-3 cloves of freshly minced garlic. Once the garlic changes color, mix it all up. ⁣⁣⁣
⁣⁣⁣
6. Add a tablespoon of tamari. Add some black pepper, push it to the sides again and crack some eggs onto the pan and season. Scramble inside pan but let it cook before mixing with rice. ⁣⁣⁣
⁣⁣⁣
7. Serve with your umami wings, and you won't be missing Asian takeout!⁣
⁣
NOTE: To find Chelsea's recipe for her umami wings, head here. 

👉

 https://bit.ly/39DdgUI