Keto Vietnamese Spring Rolls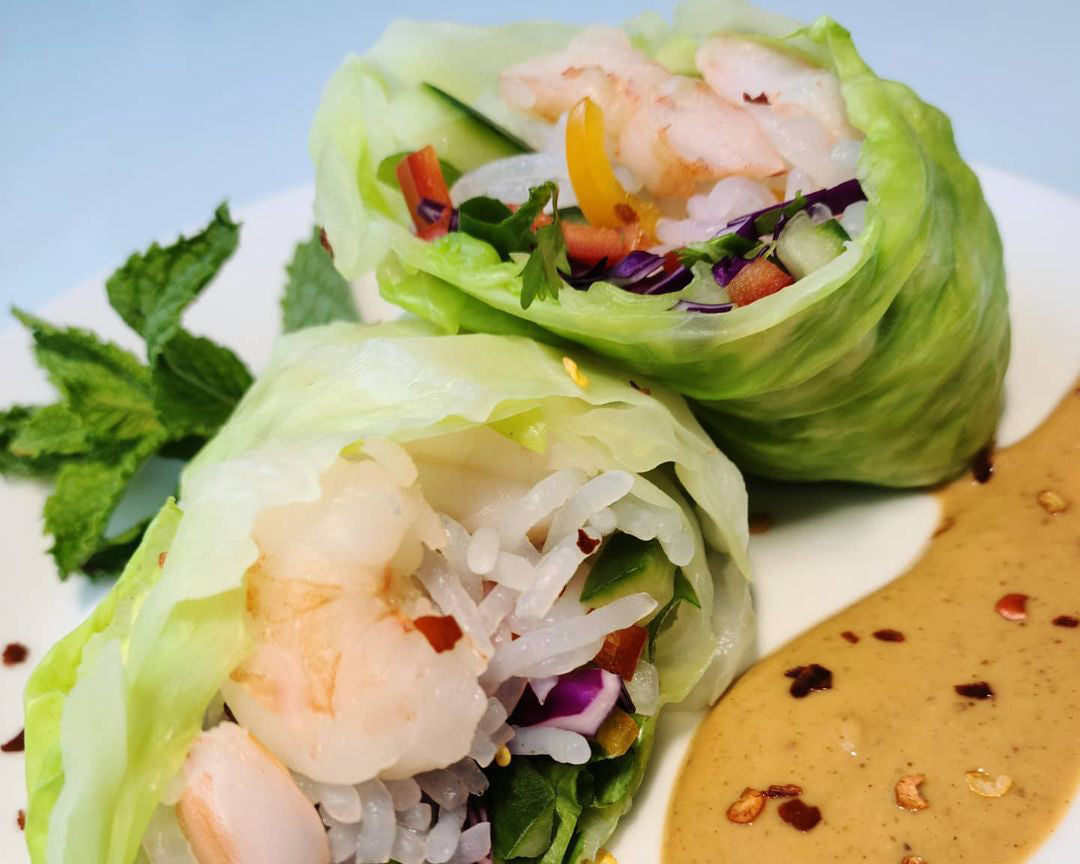 Looking for some Asian keto food to brighten up your day? These low-carb Vietnamese Spring Rolls are the perfect keto comfort meal.
INGREDIENTS:
THE ROLLS:
1 Head of cabbage, large leaves removed and steamed
1 pkg Miracle Noodles Angel Hair
1 pkg frozen Shrimp, pre-cooked and de-veined
Cucumber, sliced thin
Bell peppers, sliced thin
Red cabbage, sliced thin
Green onion, sliced thin
Cilantro
Fresh Mint
Thai basil
Sesame oil, dash
Rice vinegar, unsweetened, dash
Fish sauce, dash
THE SAUCE
3 tbs peanut butter, unsweetened
2 Tbs Fish sauce
2 Tbs Rice vinegar, unsweetened
2 Tbs Garlic Chili Sauce
1 Tbs Sesame oil
1/4 tsp Truvia sweetener
1/4 tsp Garlic powder
3 Tbs water
Soy sauce or Aminos, dash
INSTRUCTIONS:
1. Steam large cabbage leaves, remove veins and thick ends. Chill in ice water to stop the cooking.
2. Boil angel hair Miracle Noodles in salty water for 30 minutes. Drain, then add a dash of sesame oil, fish sauce, and rice vinegar to the Noodles, set aside to cool.
3. Place cabbage leaves on a flat surface, fill with cooked shrimp, noodles, vegetables, and herbs. Roll up the cabbage to form a sealed roll.
4. Mix the sauce ingredients together until smooth. If too thick add more water. Serve with the spring rolls.