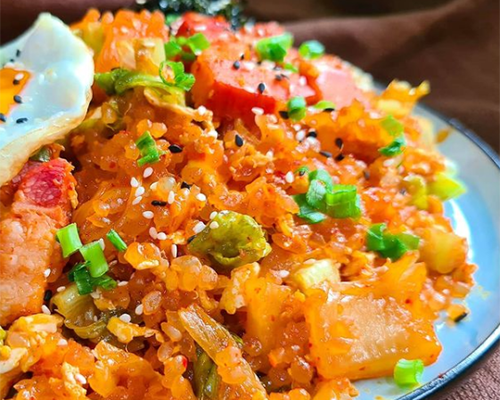 Try this Kimchi fried rice with thick cut bacon. You'll love the burst of flavors. It's tangy, mildly sweet and moderately spicy.
INGREDIENTS:
1 packet of Miracle Rice
250 g kimchi (store bought or homemade)
1 to 2 strips bacon (cut into smaller pieces)
1 to 2 tbsp Gochujang sauce
1 to 2 tbsp liquid aminos, tamari or soy sauce
Keto-friendly sweetener to taste (optional)
1 sunny side up egg
1/4 cup yellow onions (chopped)
1 tbsp minced garlic
Spring onions (chopped)
Sesame seeds (optional)
Roasted seaweed (optional)
DIRECTIONS:
1. Prepare Miracle Rice by rinsing and boiling for 2 mins. Drain and dry roast in pan without oil until squeaky to remove excess water. Set aside.
2. Pan fry bacon with some cooking oil or butter until slightly browned.
3. Add onions, garlic, gochujang, seasonings and stir fry until fragrant. Then add rice and mix until well combined. Adjust taste accordingly. If you prefer more heat, just add more gochujang.
4. Dish up, top with egg and seaweed. Sprinkle with spring onions and sesame seeds.