Low-Calorie Lemongrass Lo Mein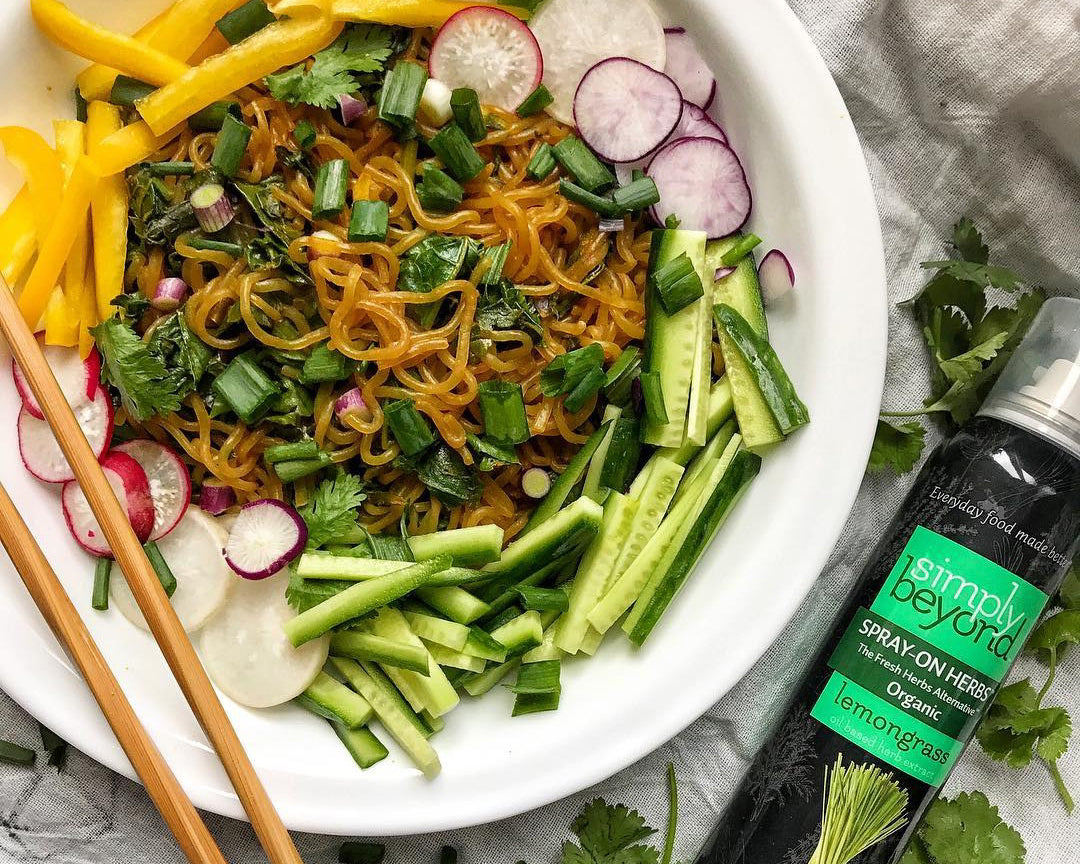 This amazing and flavorful dish comes from the creative mind of Rebecca Spitzer. Rebecca is one of our talented Ambassadors who makes meal time flavorful, healthy, low-calorie, and fun! Try her Lemongrass Lo Mein!

Make this dish with our Miracle Noodle Angel Hair and with Simply Beyond Herbal Sprays in Lemongrass! Our Herbal Sprays are an excellent way to add a pop of flavor that's organic and fragrant!
Follow Rebecca on Instagram at @thelowcalorielife! 


First, prep your miracle noodles (microwave, stove-top, whatever works for you) while you quickly stir-fry any veggies you want to include IN the noodles, like mushrooms or peppers or snap peas. (In the pic, my peppers are uncooked, on the side, because people in my house like them crunchy but sautéed is more traditional.) A little hot oil in a nonstick pan is all you need for the veggies, but if you have fresh garlic and ginger to throw in, it's worth it.
Then - the key is in the special sauce!
These are the sauce proportions I use for one bag of Miracle Noodle Angel Hair, which I consider to be one serving:
1 Bag Miracle Noodle Angel Hair
1 teaspoon lemongrass oil (can sub sesame oil)
2 tablespoons soy sauce
1 tablespoon rice vinegar
A few drops of liquid stevia (I like NuNaturals Alcohol Free Drops but you can sub half a packet / 1 teaspoon)
1 teaspoon sriracha (or to taste)
Simply Beyond Herbal Spray in Lemongrass

METHOD:
1.) Mix sauce in a bowl to your tastes - if you like it sweeter, saltier, spicier you can amp up the stevia or sriracha or soy sauce.

2.) Add your noodles to your veggies on the stove-top, then pour your sauce over the top. Stir to combine, then let it come to a simmer for a minute before taking off the heat and serving! I like to throw in a handful of scallions and spinach or kale right for the last minute, just to soften them for a minute without overlooking them; I also like to garnish with cilantro if I have it on hand.

3.) Can you tell most of my cooking is done by staring into the abyss of my fridge and figuring out what will work?? This recipe is so easy to adapt - different vegetables, add shredded chicken or pork or shrimp, or use different Simply Beyond Herbal Spray oils to make it work for your tastes (and macros!)

Confession - when I'm tired, I also just combine this sauce with noodles in the microwave in one go, skipping the stove-top altogether. Still tastes good!