Low-Carb Kimchi Noodle Soup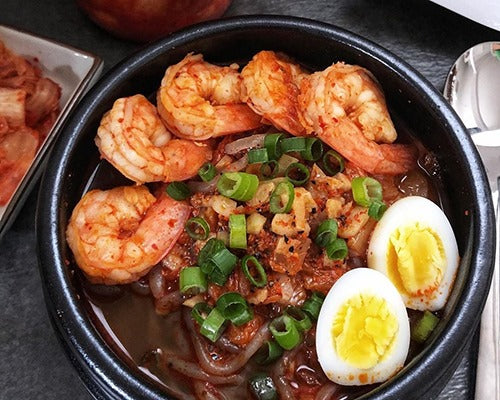 Looking for a Korean food fix? Here's a keto-friendly, low-carb version of the kimchi noodle soup.
INGREDIENTS:
1 Miracle Noodle Angel Hair
1/2 tbsp sesame oil
2 cloves garlic, minced
2 oz shrimp (or beef)
2 tsp gochugaru (korean chili pepper.. adjust the level of spice)
2 tbsp kimchi (cut into small strips)
1 cup water
1 tbsp juice from kimchi
Salt and pepper
Green onion, chopped
Egg - optional
DIRECTIONS:
1. Add the sesame oil, garlic, shrimp, gochugaru to a small pot over medium heat. Cook until the shrimp changes color then add the kimchi and stir.
2. Pour in water and the juice from the kimchi. Bring it to a boil. Season with salt and pepper. Add the prepared shirataki noodles, green onion and egg.