Low-Carb Spicy Sesame Chicken Noodles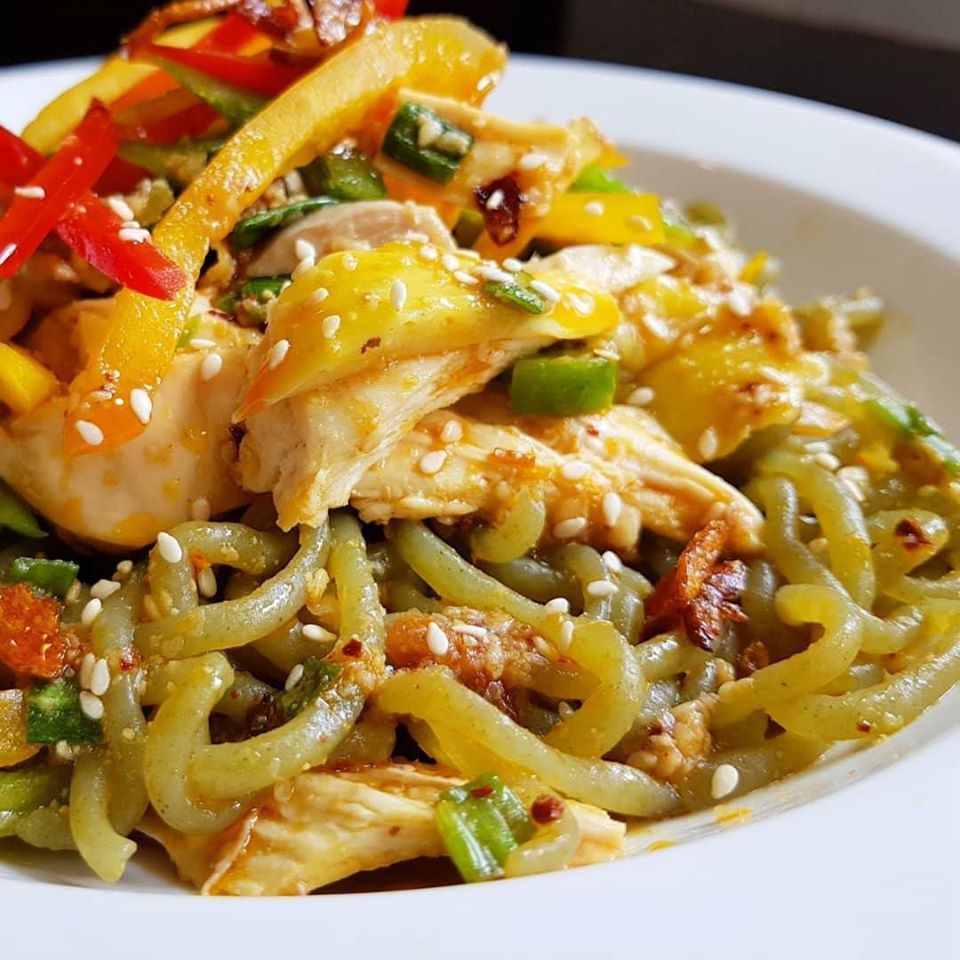 Spice is nice! Bring on the flavor and the heat with this recipe made with our Spinach Angel Hair!
"Oh wow.. this is my current favorite - low-carb spicy sesame chicken noodle! So full of flavors and easy to put together as there's no cooking involved but just tossing the noodles with the sauce or what we call "lo mein".


I used low-carb spinach noodles from Miracle Noodle, but any type of Miracle Noodle works as well. The heat comes from my homemade chili oil.
 Alternatively, you can use store-bought chili oil, and you can adjust the level of heat you prefer. For the chicken, I used leftover steamed chicken, but you can use rotisserie chicken or any meat or seafood. The toasted sesame seeds gives a nice nutty flavor and if you have a pestle and mortar, lightly grind them to release their flavor."
INGREDIENTS:

1 packet of Miracle Noodle Spinach Angel Hair
1 cup cooked chicken
1 cup bell peppers (sliced lengthwise)
SAUCE:
2 tbsp sesame seeds (toasted)
2 tbsp spring onions (chopped)
2 tbsp garlic (minced)
3 tbsp soy sauce, tamari or liquid aminos
2 to 3 tbsp apple cider vinegar (or any vinegar)
3 to 4 tbsp chili oil (adjust level of heat accordingly)
1 tbsp sesame oil
Salt to taste
Low-carb natural sweetener to taste (optional)
*Take all the sauce ingredients and mix together in a bowl. Set aside.
DIRECTIONS:
1. Prepare Miracle Noodle as per package directions.
2. Combine noodles, bell peppers, chicken and sauce together. Toss to mix well.
3. Sprinkle with sesame seeds.