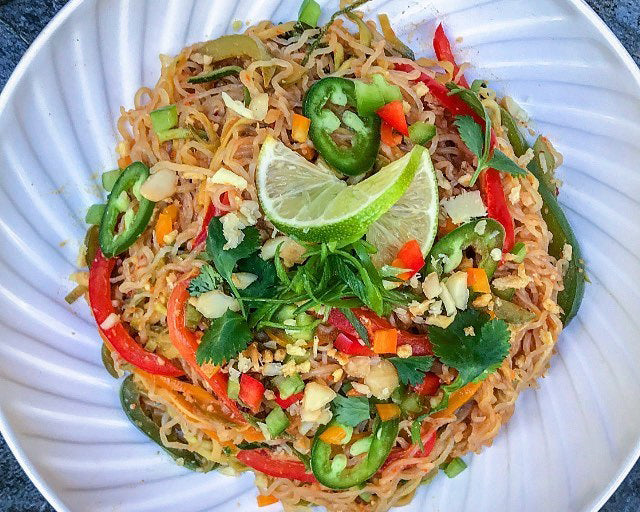 We love the talent of Frank Campella
 and the amazing meals he makes with our low-carb noodles and rice! Try this dish that's packed with flavor from peppers, coconut cream, jalapeno, along with ginger!
"Check out this mind-blowingly awesome Macadamia Thai Noodles.
Perfect keto friendly, low carb meal that's easy to prepare. Want the how-to video?

⠀⠀⠀⠀⠀⠀⠀⠀⠀
INGREDIENTS:
1 pack Miracle Noodle Angel Hair
1 cup sliced bell peppers
1 sliced jalapeño
1 small julienned zucchini
2 tablespoon sliced scallions
Juice of 1 lime
3 tablespoon coconut cream
1 tablespoon Thai peanut seasoning from @spiceology
1 pack FBOMB macadamia nut butter w/ sea salt @fatissmartfuel
1 tablespoon butter flavored coconut oil from @nutiva
2 tablespoon Sambal Oelek ground fresh chili paste
1 tablespoon minced ginger
1 tablespoon minced garlic
1 tablespoon chopped macadamia nuts
1 tablespoon coconut aminos
1 tsp fish sauce
DIRECTIONS:
1. Prep all raw ingredients, slice peppers, scallions and jalapeño, chop macadamia nuts, mince ginger and garlic, julienne zucchini, cut lime in half and cut one slice for garnish.

2. Set out all wet ingredients and sauces.

3. In a wok or large pan heat butter flavored coconut oil or avocado oil if you don't have the flavored oil. Add ginger, garlic, and scallions.

4. Add bell peppers and jalapeños to wok stirring frequently for about 1-2 minutes.


5. Next, add the miracle noodles tossing the noodles and coating in oil so they separate. Cook for about 1 minute.

6. Add zucchini to wok and toss to combine with peppers and noodles.

7. Next, add Thai peanut seasoning and FBOMB macadamia nut butter w/ sea salt. Stir to combine.

8. Add coconut aminos, fish sauce, Sambal Oelek, and lime juice. Let sauce reduce for 1-2 minutes.

9. Once the sauce has reduced stir in coconut cream to thicken the sauce and coat the noodles. Finish with chopped macadamia nuts.

Optional: garnish w/ scallions, a slice of lime, chopped macadamia nuts and cilantro.

Check out the video for this recipe: https://youtu.be/hb66rCNLh2U