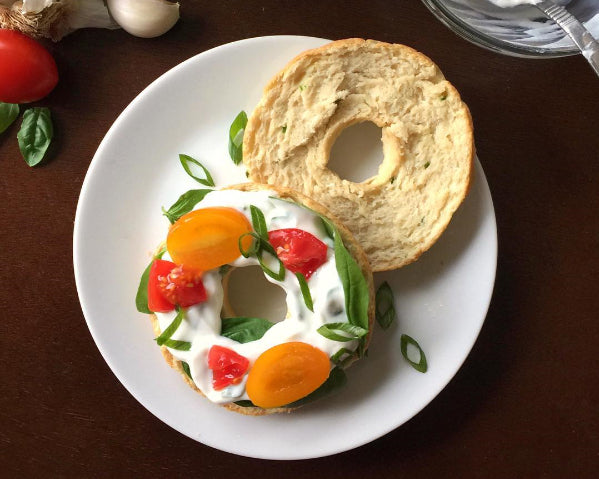 Bagels made with Miracle Rice? Get out of town! It's true! The Garlic flavor is a nice addition and comes from our Simply Beyond Spray-On Herbs. Also, Charlie has an amazing spread to boot! The Miracle Noodle Ambassador, . is so creative and clever with her recipes! Check this out, then check out Charlie on Instagram at @trainingwithcharlie!
"Bagels. The ultimate vessel for cream cheese. Now these doughy little buddies are delicious to boot but will leave you with a doughy little tummy too. How can we still have these delicious bites without all the carbs? Well I've got you covered with a garlic and chive bagel! Here's a low-carb recipe that gives you that nice chewy texture of your usual morning bagel but at only 100 calories!"

Serving size: 1
Macros for Bagel: 100 cal | 1 net carbs | 6 protein | 6 fat
Low-Carb Garlic Bagel

INGREDIENTS

¼ cup package Organic Miracle Rice
Simply Beyond Garlic Spray-On Herbs
⅓ cup Carbquik baking flour
1 tablespoon fresh chopped chives
Sea salt

DIRECTIONS:
1.) Drain, rinse, and dry a package of Organic Miracle Noodle rice. Set aside ¼ cup. 

2.) Preheat oven to 350 degrees.

3.) In a food processor, place the Miracle Noodle Rice, flour, and a pinch of sea salt. Pulse 10 times and then throw in chopped chives. Pulse until dough ball forms.

4.) Roll the dough ball in your hands and spray with Simply Beyond Garlic Spray until well coated. This will keep the dough moist and fragment while cooking.

5.) Spray a bagel pan with coconut oil and place dough into mold. If you don't own a bagel pan, use a baking sheet with parchment paper and shape into a doughnut shape.

6.) Cook for 12 minutes and then let cool before cutting into it. Enjoy!

The Herby Bagel Schmear 

INGREDIENTS:

2 tablespoons of sour cream
Garlic
Onion powder
Sea salt
Chopped chives
Sliced green onions for the creamy base.

DIRECTIONS:

Mix all ingredients together in a small bowl and you've got an easy spread that's low-carb and low-calorie. Basil and tomato make great toppings that are both refreshing and crunchy!