Miracle Noodle Chocolate Pudding with Almonds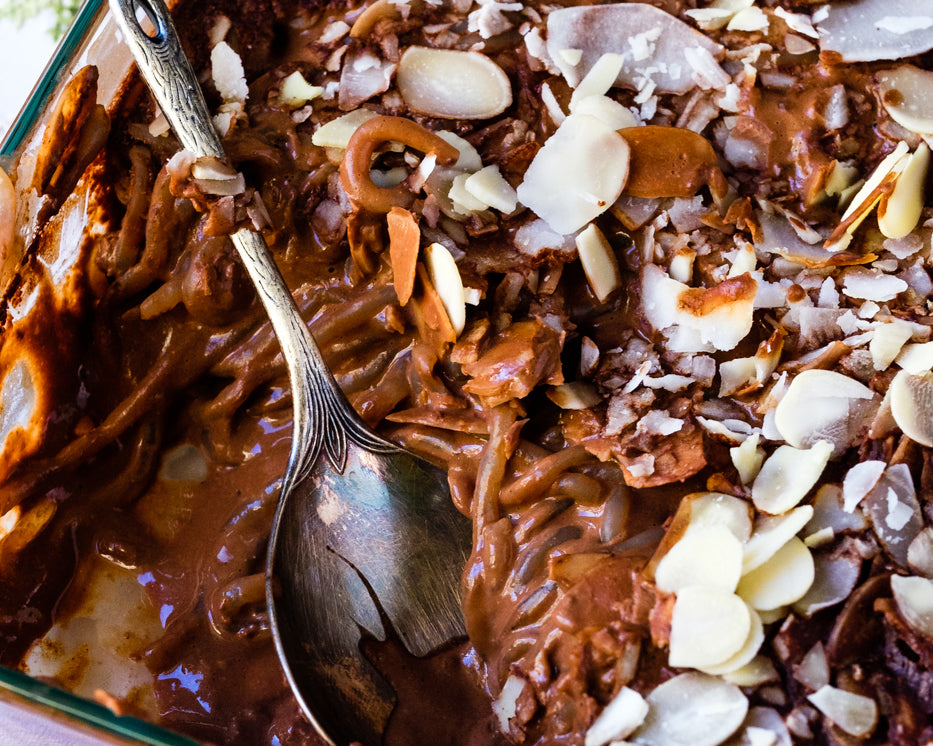 Miracle Noodle Ambassador is back at it and we are impressed, to say the least! As some of you may know, she follows a lectin-free life, and has been making amazing kitchen creations while doing so! Check out her healthy treat made with our noodles! No lie!
"One of the first Plant Paradox, lectin free 'desserts' I made was the Shirataki rice chocolate pudding from The Plant Paradox book. I've always been really happy with it, but it involved a little few extra steps that were making this dish less approachable. Nothing difficult, but I heard people asking if there is a way to make it easier. Last night I wanted to fix some easy dinner and didn't have much in the fridge. I was also craving chocolate (I didn't have any in some time), so I thought I'd give this recipe a try without following all the steps in the book. It worked!"

Shirataki Noodles Chocolate Pudding with Almonds

Serves: 2-4 Prep Time: 10 minutes Cooking Time: 20 minutes

INGREDIENTS: 

1 pack (7oz) Miracle Noodle Angel Hair OR Miracle Rice
1 cup unsweetened, original hemp milk (Pacific brand, or any other clean one)
1 pasture raised / omega 3 egg
1 tbsp arrowroot powder
3 tbsp cacao powder (NOT cocoa, but pure, organic, non alkalized cacao powder)
1 tbsp Swerve (confectioners) - or more
1/4 cup slivered almonds, no skins plus a little more for decoration
1/4 - 1/2 cups coconut flakes
1 tsp pure vanilla extract
1/4 tsp pure almond extract
1/4 tsp cinnamon
Pinch of salt

DIRECTIONS:

1. Preheat oven to 350F.

2. Rinse the noodles or rice thoroughly in cold water, in a colander, for few minutes. Set aside to drain.

3. In a bowl mix the hemp milk with egg.

4. Mix arrowroot powder with a tsp of cold milk and add to the bowl.

5. Add cacao powder, whisk well.

6. Add the sweetener (1 tbsp or more).

7. Add the almonds and coconut flakes, vanilla and almond extract, cinnamon.

8. Add the noodles to the pyrex dish in an even layer and top with the mixture.

9. Add more slivered almonds and coconut flakes on top.

10. Bake for 20 mins.

11. Take out and let it set for about 10 minutes, can be served warm or cold.

NOTES: This makes about 2 adult serving sizes or 4 kids, depending on how old and hungry your kids are. I used only 1 1/2 tsp of Swerve, but this is on the bitter side, so if you know your kids have a sweet tooth, add more, at least at the beginning.

For more lectin-free recipes and delicious meals, follow check out Claudia at www.creativeinmykitchen.com.