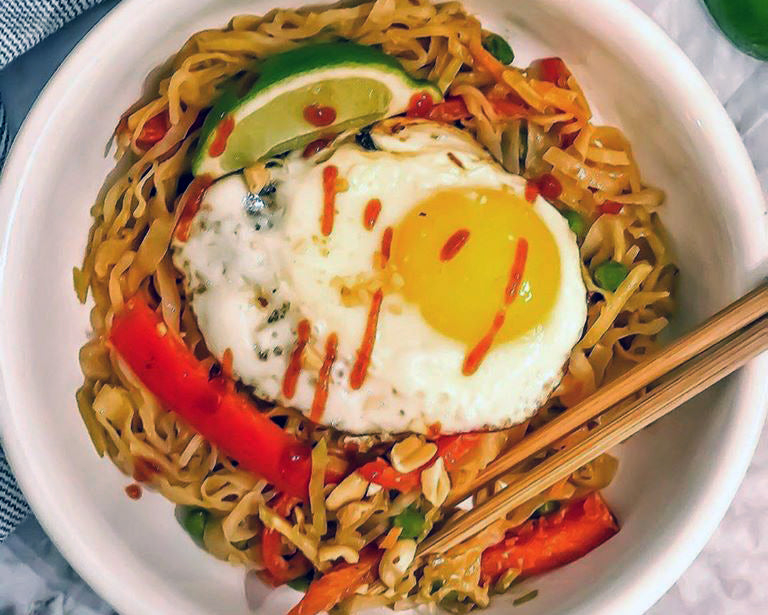 Happiness in a bowl is what we are delivering!
"Fuel your smile with Miracle Noodle Pad Thai.


Looking for a miracle? Look no further! Why are MIracle Noodles a true miracle? Because they are a true calorie free resistant starch! This means they help promote a healthy gut and body without compromising your diet goals."


Recipe by Dr. Michelle Yanover, DDS AKA @fuel_my_smile on Instagram.


INGREDIENTS:
This recipe can be made vegan by omitting the egg.

3 bags of Miracle Noodle Fettuccine noodles, prepared
1 red bell pepper sliced 
1 12 oz bag broccoli slaw
3 cloves garlic minced
2-3 scallions sliced
1 tablespoon avocado oil 
1 large egg
1/4 cup peanuts crushed
Cilantro (optional)
Salt and Pepper, to taste
PAD THAI SAUCE:
1 garlic clove
1/2 tbsp grated ginger
3 tbsp of soy sauce or tamari
Juice of 1 lime
3 tablespoons of maple syrup 
1/3 cup of powdered peanut butter
1/3 cup water
1 tablespoon of rice vinegar
1-2 tsp sriracha sauce
DIRECTIONS, SAUCE:
1. In a food processor combine all the ingredients for the sauce. Set aside.
DIRECTIONS, MAIN DISH:
1. Heat 1 tbsp oil in large skillet. Add garlic and cook until soft and translucent, about 1 minute. Set aside
2. Add broccoli slaw. Cook for about 1-2 minutes or until tender.
3. Add the Miracle Noodle back to pan. Add the sauce. Cook for about 1 more minute or until the pasta and sauce is heated through.

4. Fry up an egg. Set aside.
5. Top with crushed peanuts, cilantro, egg, and lime wedge.