Miracle Noodle Ready to Eat Tom Yum with Fried Mussels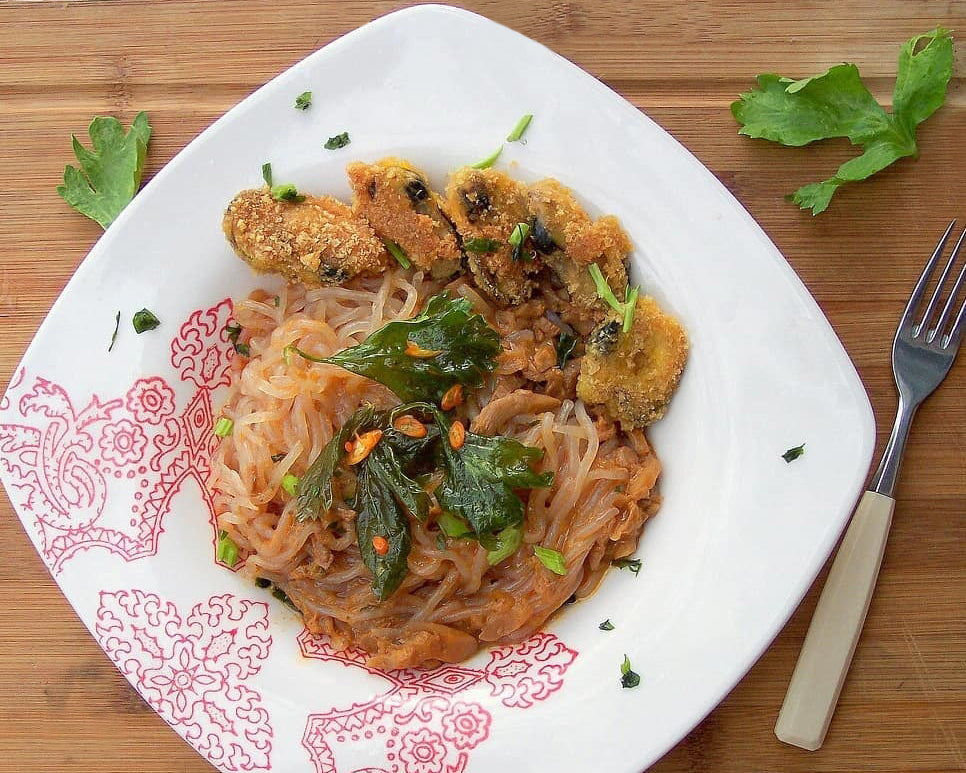 Audrey has stepped up to our challenge in honor of this months "National Grab Your Nuts Day" which was on August 3rd! Check out this tasty dish that incorporates our delicious Ready-to-Eat meal in Thai Tom Yum, almond flour, pork rinds, and mussels! It's keto and it's crunchy! YUM!
"I bought some already cooked frozen mussels from the Asian supermarket. I thought these would go well with the Miracle Noodle Tom Yum Ready-to-Eat meal. I wanted a little bit of crispness, so I breaded the mussels with a combination of almond flour and crushed pork rinds. You could omit the almond flour and just use a cup of the crushed pork rinds or just add the mussels to the noodles and heat everything in the microwave. I topped my bowl with frizzled (crisp fried) Chinese celery leaves and a few slices of Thai chiles." --- Audrey AKA Creative Low Carb Fusion
Miracle Noodle Ready to Eat Tom Yum with Fried Mussels

INGREDIENTS:
1 package Miracle Noodle Ready to Eat Thai Tom Yum
1 Tbs. oil
1/2 cup almond flour
1/2 cup crushed pork rinds
1 large egg, beaten
10 mussels, cooked and removed from shells
Celery leaves, cilantro, Thai chiles, jalapeno for optional garnish
DIRECTIONS:
1. Put oil in a skillet and heat over medium-high heat.
2. Put pork rinds in blender or food processor and pulse until the rinds look like flour - no large pieces.
3. Combine almond flour with crushed pork rinds in a bowl and set aside.
Beat egg in a bowl until yolk and white are combined.
4. Dip mussels into egg, then the almond/pork rind mixture and into the hot skillet.
5. Quickly fry until browned on both sides.
6. Remove from skillet and put on paper towel lined platter.
7. Heat Miracle Noodle Tom Yum in the microwave.
8. Divide noodles between two bowls and top each bowl with 5 mussels.
9. Add your choice of optional toppings - Thai chiles, jalapeno, chopped cilantro and/or celery leaves.