Miracle Noodle Shepherd's Pie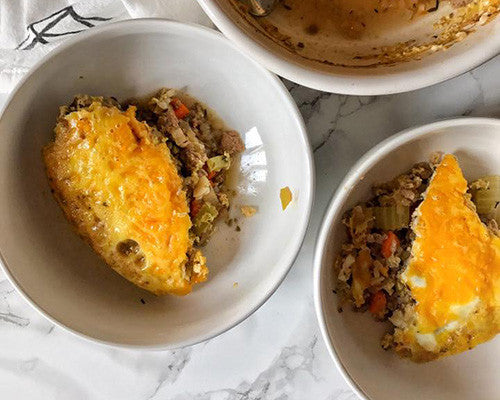 Shepherd's Pie? Oh, my! Miracle Rice, turkey, carrots, celery, and cheese! Yes, please! Recipe by Miracle Noodle Ambassador,

Serves 6

Ingredients
1 bag of Miracle Rice 

1 cup of beef broth

2 Tbsp of gelatin 

1 tsp oil of choice

1 lb ground turkey (or beef)

3 oz celery, diced

3 oz carrots, diced

3 cloves garlic

1 Tbsp Worcestershire Sauce

1 tsp parsley

1 tsp thyme

6 eggs

2 Tbsp heavy cream (more or less to your macros)

2 oz shredded cheese
Method
Preheat oven to 350.

Prep gelatin broth: mix 1 cup of broth with 2 Tbsp of gelatin and set aside.

In a large pan or dutch oven, heat oil over high heat until it shimmers.

Add ground meat and brown, breaking up into small pieces with a wooden spoon or spatula.

When meat is browned and no pink remains, add carrots, celery, and garlic. Cook until softened, 3-5 minutes.

Drain and rinse Miracle Rice, and add to meat along with gelatin broth, Worcestershire sauce, and herbs. Reduce heat and simmer for 10 minutes until liquid is reduced.

While meat sauce simmers, beat eggs and cream together; set aside.


Pour meat and Miracle Rice sauce into oven safe dish; flatten it down, it shouldn't fill it more than 2/3 full.

Pour eggs over the top, then top with cheese.

Bake for 30 minutes, until the cheese is melted and bubbling.

Chill for 15 minutes, then serve.
Notes
1. Miracle Rice does a great job here of creating volume in the ground meat mixture while keeping it super moist.
2. Fluffy eggs replace mashed potatoes; if you're not low carb, potatoes or cauliflower will do just as well. The celery and carrot mix can also benefit from an onion or peas if you eat those.
3. Depending on what nutrition macros you're going for, this could use beef or lamb, more heavy cream in your eggs (up to 1 cup) or more eggs (up to a dozen). 

Macros
Calories: 250 / Fat 14.5 / Net Carbs 2 / Protein 27