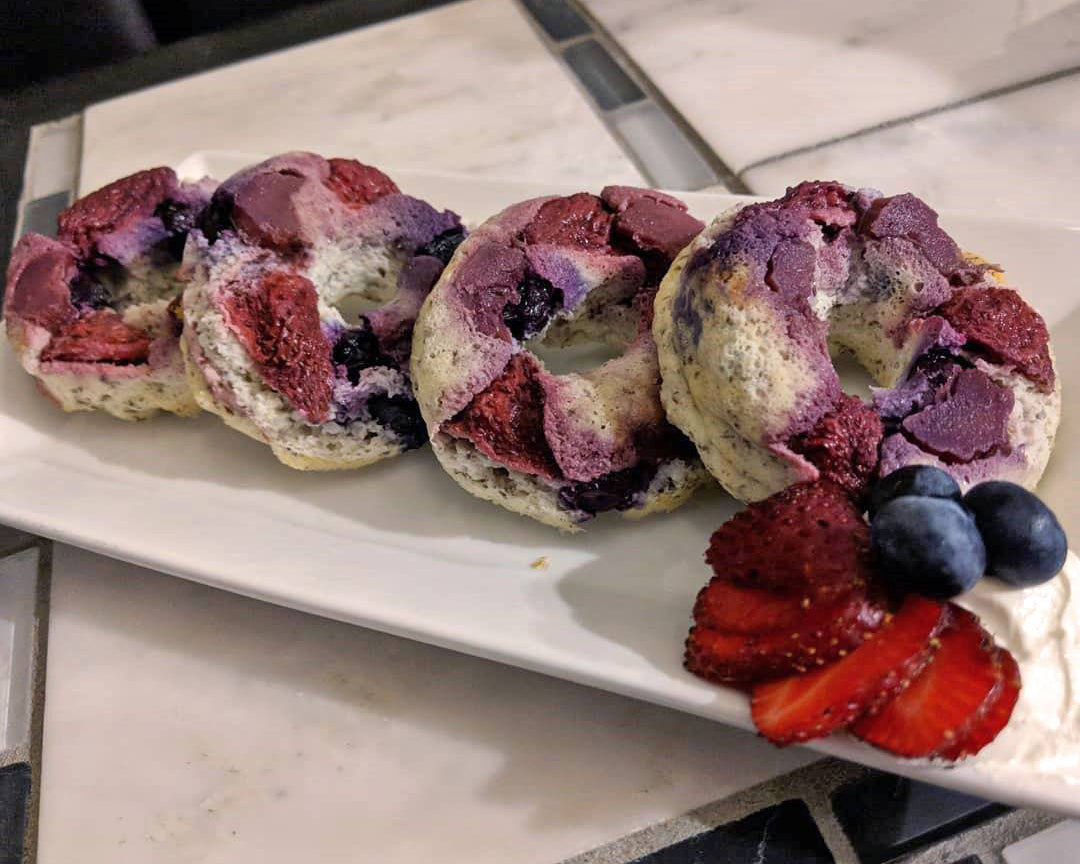 Start your week off right with protein-packed donuts that have the colors of summer berries! Miracle Noodle Ambassador Cara shows you how! The secret ingredient that adds texture and fiber is our Miracle Rice! It's true!


"Red, white and blue pro-nuts made with Miracle Noodle Rice! High protein, gluten-free, and about 50 calories per donut."


Makes 4 donuts. 205 calories (16C/6F/23P) for the entire batch.
INGREDIENTS:
1/2 package of Miracle Rice
28 grams protein powder (I always use Devotion Nutrition Angel Food Cake protein powder)
1 tbsp coconut flour (7 grams)
8 grams ground flax seed
3 strawberries
25 grams blueberries
1 stalk rhubarb
DIRECTIONS:
1. Rinse and prepare miracle rice in a dry pan until moisture has evaporated. Let cool.
2. Slice rhubarb and quarter strawberries. Toss fruit with a little bit of coconut flour (from the ingredients). Arrange fruit in donut pan. I used 3 slices of rhubarb and 3 pieces of strawberry per donut. Divide blueberries evenly.
3. Blitz cooled miracle rice in a mini food processor until chopped into fine pieces. Add dry ingredients and blend again until combined.
4. Add 4-6 tbsp of water and blend to make a thick batter. Divided into 4 donut pans evenly. .
5. Bake in a 350-degree oven for 25 minutes. Let cool and enjoy!