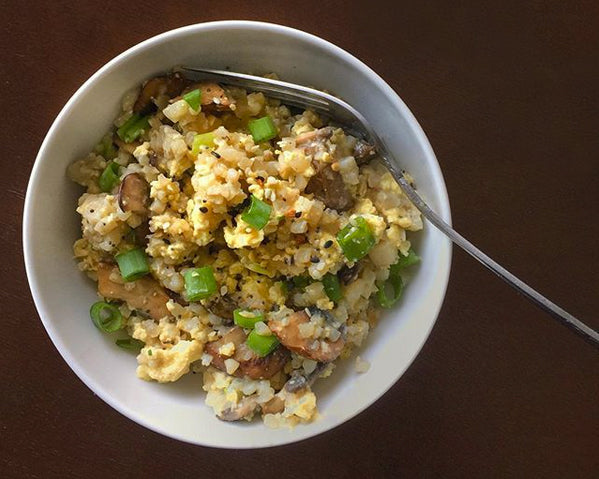 We love our Ambassadors! Charlie is
at it again with an amazing take on risotto with our Miracle Rice! Flavor and happiness in a bowl! Our low-carb noodles and rice make it possible for people with special diets and food restrictions to enjoy their favorite entrees once again!
"

Risotto. It doesn't have to be that gut busting dish you avoid anymore. This protein and veggie packed cauliflower and mushroom risotto has half the calories and carbs than the normal dish, but with the same creamy cheesy flavor!

"

Serves 1


Macros: 170 cal | 9.6 net carbs | 18 protein | 3.6 fat



Ingredients
½ package frozen riced cauliflower (Charlie used Trader Joe's)

1 green onion stalk

½ cup egg substitute or egg whites

½ cup sliced mushrooms

2 wedges laughing cow cheese

¼ tsp onion powder

¼ tsp garlic powder

Sea salt to taste
Method
Drain, rinse, and dry half a package of Organic Miracle Noodle rice. Set aside.

Microwave the frozen cauliflower for 2 minutes. Set aside.

Place a small pot on medium heat and spray with coconut spray. Sautée the sliced mushrooms for 5 minutes.

Toss in the cauliflower and sliced white bottoms of the green onion stalk. Sprinkle in onion, garlic and salt.

Place miracle noodle into pot and cook for 2-3 minutes.

Pour mixture into a bowl.

Spray a small pan with coconut oil and place on medium heat. Pour egg whites into pan and continue to stir the eggs slowly.

Add a pinch of garlic powder, onion powder, and salt to eggs. Cook until eggs are light and silky, 3-4 minutes.


Place scrambled eggs into cauliflower mix. Add cheese to cauliflower and mix until the ingredients are well combined and the cheese is smooth and creamy.

Garnish with green onions and everything bagel seasoning. Enjoy!
Note

If you are cooking for more than one, double the ingredients and use a skillet!