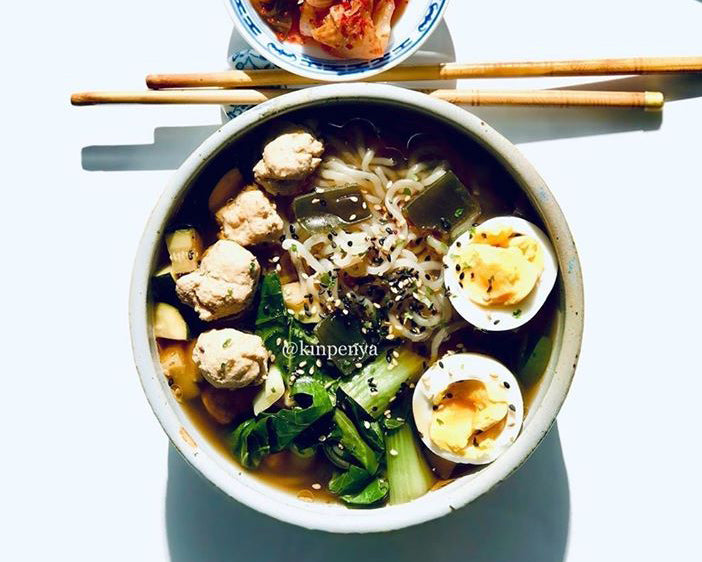 Are you a ramen fan who's all about that broth? Check out this Miso Miracle Ramen from Chef Kamoot!


It's been foggy so the soup season comes early for us. Noodle soup is my fav. Thanks to shirataki Miracle Noodle, ramen can be in my low-carb life. So this's my Miso Miracle Ramen:

A ramen is no good if the broth is no good, period! For me, broth made with roasted bones is the best! We buy organic roast chicken from stores sometimes, so we collect the bones to make our own broth. For ramen, the broth has to be even more superior! So, here's the deet. Do let me know how you like it.

Recipe by Chef Komoot of @kinpenya on Instagram.


Here's the process for her Dashi Broth prior to cooking the ramen. Otherwise you can substitute with your favorite ramen broth.

BROTH INGREDIENTS:

1 piece of kombu (edible kelp)
4 cups of bone broth
1 cup of dried bonito flakes

DIRECTIONS:

1. Simmer a piece of kombu (edible kelp) in bone broth on medium heat for 30 minutes.
2. Turn off the heat, pick out the kombu, cut it in bite-size pieces, and save it for later.
3. Add dried bonito flakes to broth and let it infuse for 15 minutes.
4. Strain, making sure to squeeze all the "juice" from the flakes into the broth.
RAMEN INGREDIENTS:
1 egg
1 pack Miracle Noodle Angel Hair
4 oz ground turkey
Dash of ginger powder
Dash of onion granulate
Himalayan pink salt
Ground white pepper
1 Tbsp miso paste
1 Tbsp coconut amino
1 tsp fish sauce
1 tsp grated ginger
Zucchini, chopped
Bok choy, chopped
Sesame and sea vegetable shake
DIRECTIONS:
1. Boil egg for 5 minutes. Peel, set aside.
2. Prepare noodles as per packaging instructions, set aside.
3. Season meat with ginger powder, onion granulate, salt, and pepper.
4. Make meatballs.
5. Make miso slurry by mixing miso paste with 1 tbsp dashi broth, set aside.
6. Heat dashi broth over medium-high heat, bring to a boil.
7. Put meatballs in broth, cook 3 minutes.
8. Add noodles, kombu pieces, coconut amino, fish sauce, and ginger. Bring to a boil, cook for 1 minute.
9. Add zucchini, cook for 1 minute.
10. Add bok choy, cook for 1 minute.
11. Turn off the heat, add miso slurry, and stir.
12. Adjust flavors, and put in a bowl.
13. Top with boiled egg. Sprinkle with sesame and sea vegetable shake. Nothing left to do besides dig in!