One Pan Asian Stir Fry with Miracle Noodle Spinach Pasta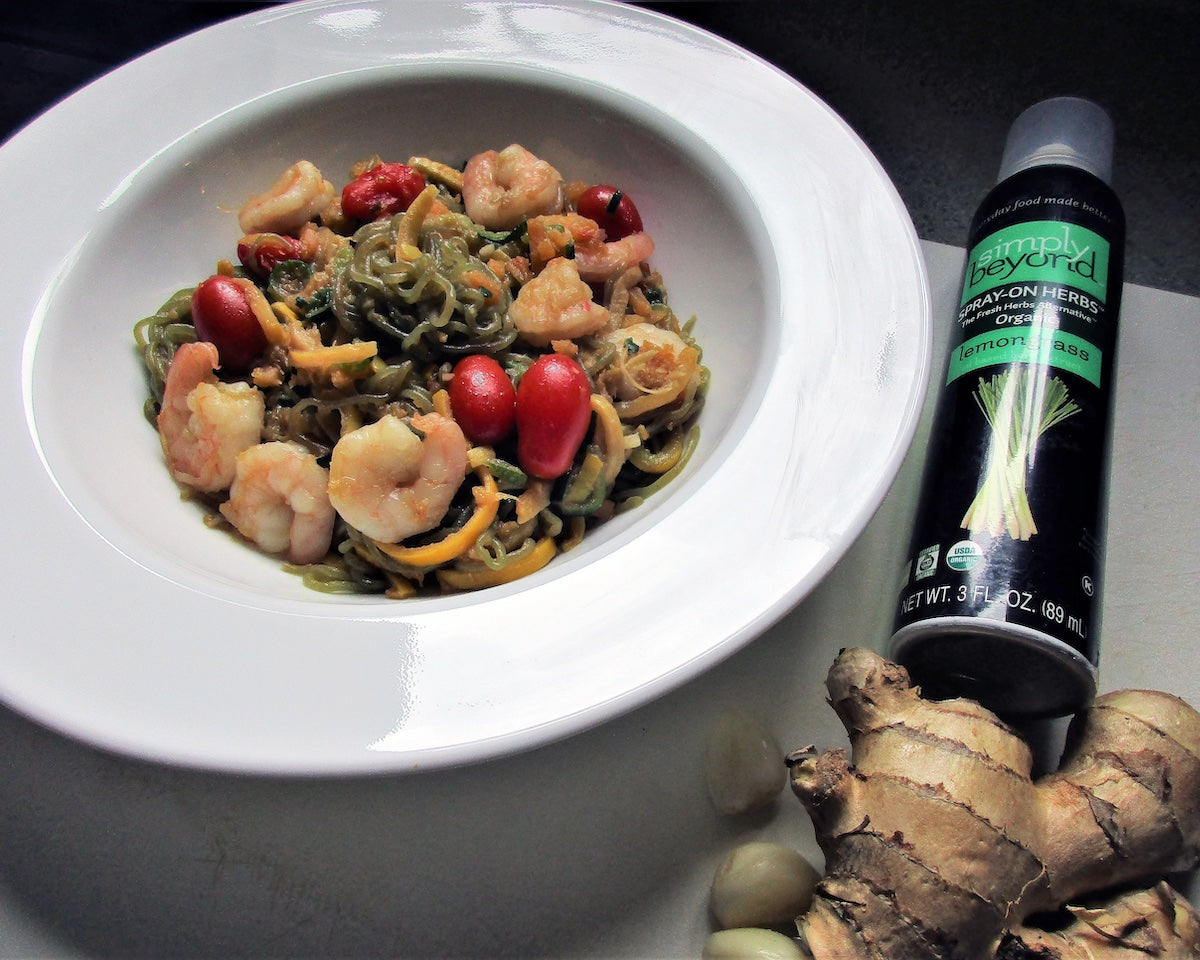 It's dinnertime! Simply Beyond Lemongrass Spray, both which are on our website! Follow Allison on Instagram at @ketogismama!


"I am loving these sprays!" 
One Pan Asian Stir Fry with Miracle Noodle Spinach Pasta Shrimp and Squash
is using guilt-free Spinach Miracle Noodle with

Serves 4 

INGREDIENTS:

2 packages Miracle Noodle Spinach Angel Hair 
1 yellow squash cut into thin sliced rings 
12 ounces small shrimp EZ Peel 
A handful of Cherry Tomatoes 
A few Basil leaves 
Simply Beyond Lemongrass Spray On Herbs 
1 inch knob of fresh ginger chopped 
2-3 cloves of garlic chopped 
3-4 TBS of sesame oil 
2 TBS of soy sauce Tamari or Coconut Aminos 

DIRECTIONS: 

1.) Clean and prep your shrimp
2.) Rinse and drain your noodles 
3.) Cut up your squash 
4.) Put your pasta and squash into a large dry frying pan and simmer along on med high heat (with the natural juices from the pasta) until all the liquid is gone. 
5.) Turn down to low and push mixture to the sides of the pan and in the middle of the pan add 2 TBS of the sesame oil along with the ginger and garlic and saute for a couple of mins then toss and combine with the mixture. 
6.) Add the shrimp and the rest of the sesame oil and soy sauce and toss to combine and cook about 5 more mins until the shrimp turns pink and cooked through. 
7.) Remove from heat and add the torn basil leaves. 
8.) Now comes the real flavor! Spray your mixture with your spray on herbs and toss. Taste and add more if necessary according to your tastes. 
9.) Serve immediately.