One-Pan Tuna Noodle Casserole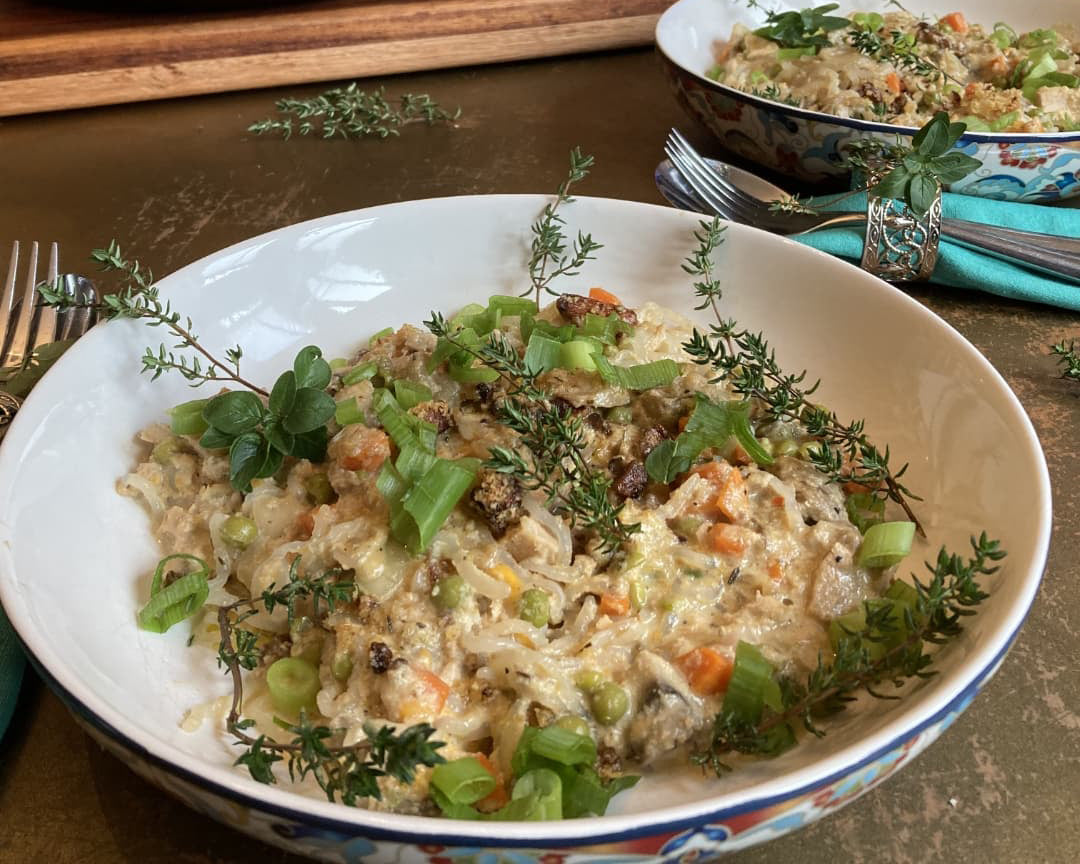 Looking for a cozy comfort recipe that can be adaptable depending on what you currently have in your pantry, fridge, & freezer? Try this low-carb One-Pan Tuna Noodle Casserole.
INGREDIENTS:
6 C fresh/frozen veggies, diced - I used peas, onions, carrots, mushrooms
6 tbls butter, divided
4 garlic cloves, minced
Everyday seasonings to taste. For this recipe, Trader Joe's garlic salt - sea salt, roasted garlic, onion, parsley; TJ's Multipurpose Umami seasoning blend; sea salt & black pepper were used
2 C milk. Trader Joe's unsweetened Almond Cashew & Mac Nut beverage was used
1 C almond flour (or fav flour)
2 C cheddar cheese, shredded
7-8 oz creme fraiche (or sour cream)
2 seven oz bags of Miracle Noodle Ready-To-Eat Spaghetti-Style pasta, drained
2 cans tuna (or canned chicken, salmon, sardines)
1 C crunch crumbles topping such as bread crumbs, crispy fried onions, crushed potato chips Champignon Mushroom snack, mix w/3 tbls melted butter
Green onions, herbs garnish
Cast-iron skillet (or can prepare w/ 2-step method skillet & large pie/ casserole dish)

DIRECTIONS:
1. In skillet, melt 3 tbls butter, saute w/veggies, garlic, spices.
2. Mix in milk, almond flour, noodles. Stir in creme fraiche, cheese, tuna fish.
3. Sprinkle on crunch crumbles. Bake at 400 deg. for 20-25 min. until bubbly. Serve w/garnishes.