Oxtail Pho with Miracle Noodle Capellini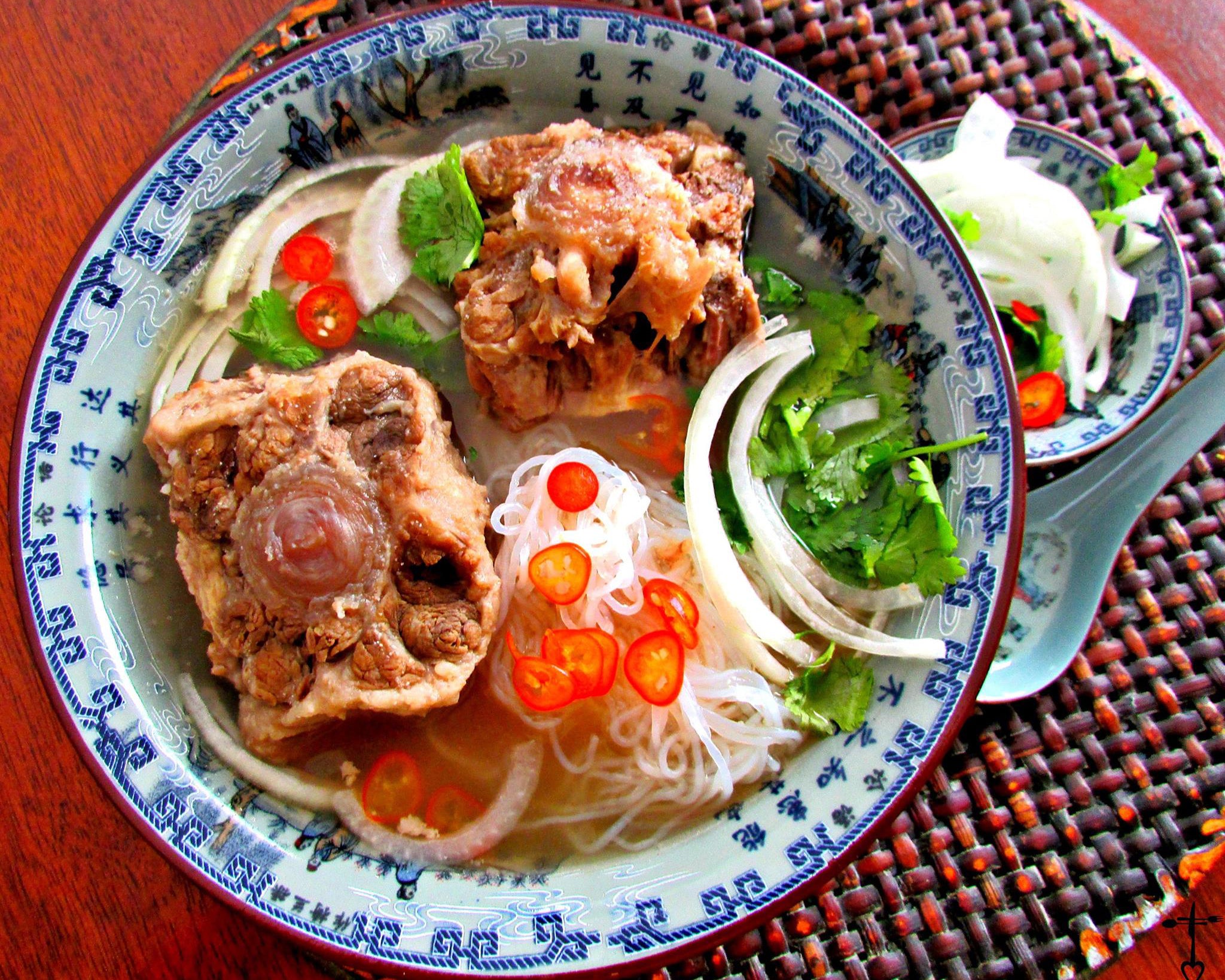 Sherri Williams makes an amazing meal using oxtail and

our noodles!
She's a master in the kitchen, and we're so lucky to have this Award Winning Cook on our team of Ambassadors! 
"My Oxtail Pho heals whatever ails you. Make a bowl today using 
Miracle Noodle Capellini
for a more healthful bowl soup with less carbs. It's a bowl of beefy yumminess that's good for the body and soul."

INGREDIENTS:

2 pounds of oxtails

Stock:

2 quarts of water
2 ounces Keystone Beef Soup Base
1 small daikon radish, cut in chunks
1 medium carrot cut in chunks
2 tablespoons fish sauce or to taste
3 large garlic cloves, smashed
2/3 chunk of fresh ginger
3 star anise
1/2 teaspoon cloves 
1 cinnamon stick
3 lime kaffir leaves
2 tablespoons fish sauce or to taste
2 teaspoons brown sugar blend
3 red chili peppers, cut in half 
* SERVE WITH:
Miracle Noodle Capellini
White onion slices
Cilantro leaves
Red chili peppers
Lime wedges
DIRECTIONS:

1.

Place oxtails in a large pot with cold water and bring to a boil for 15-20 minutes. 


2.

Drain and rinse the oxtails off. Trim off fat from oxtails.


3.

Add stock ingredients and oxtails to a large stock pot. Bring to a boil and




reduce heat and simmer for 3 hours or until oxtails are tender.


4. Take out oxtails, cool and refrigerate set aside.
5. Remove everything from the pot and strain stock through a colander. Place cool stock in a container and cover. Refrigerate for at least 4 hours. Skim off fat.
6. Heat up stock. Add oxtails and adjust seasoning to taste. Bring to a gentle boil.
7. Prepare your noodles according to the package, strain and place in bowls.
8. Add oxtails, top with stock, and favorite garnishes.