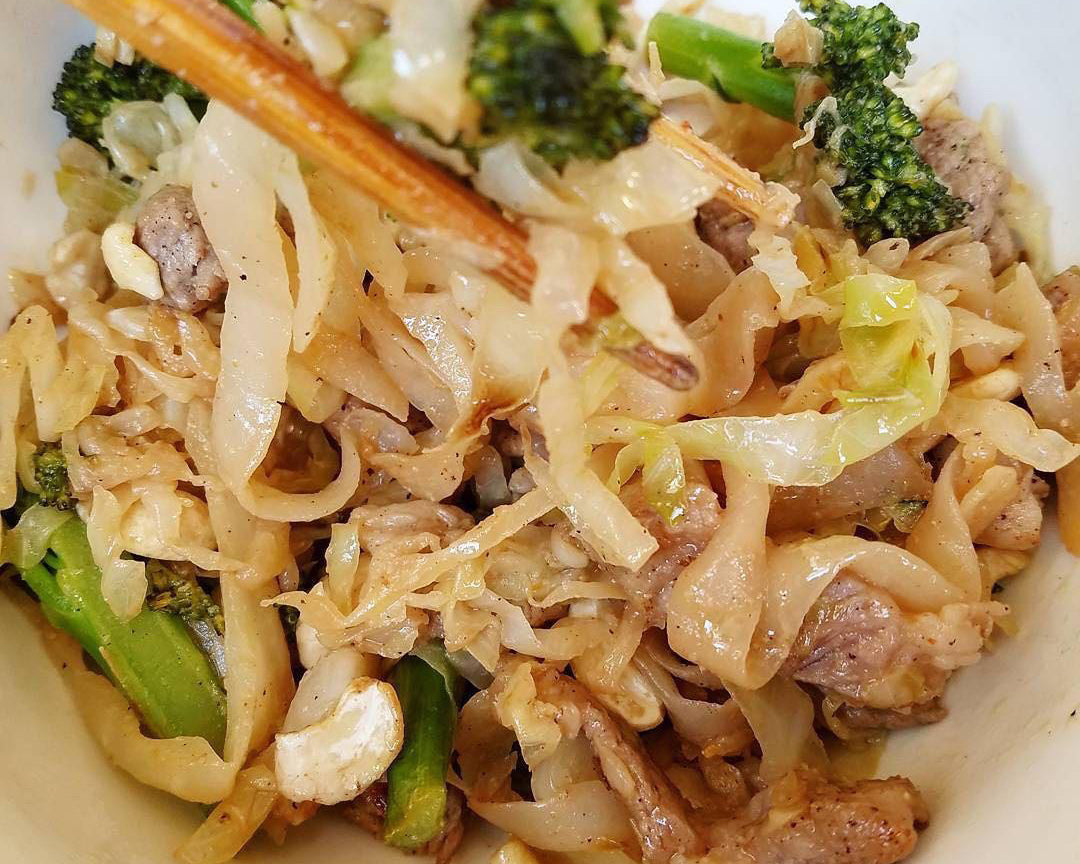 Who wants Pad Thai?!?! Who loves noodles?!?!? Want it low-carb?!?! We do! You can make it too. This recipe comes from our Ambassador, Soury Duckson. Follow Soury at @my_keto_journal on Instagram for amazing keto culinary creations!
"HOLY COW WAS THIS AMAZING! if you miss Asian food, in particular Pad Thai or pan fried noodles, you MUST try this!! I could eat this every day!! This tasted like REAL RICE STICK NOODLES. The carb count is a little higher than I'd like because of the peanut sauce, so plan accordingly.
I had pan fried Miracle Noodle Fettuccini with cabbage, broccoli, slices of pork shoulder, and homemade peanut sauce (this and the shredded cabbage are the KEY). I topped it with cashews, but it's not necessary. Here's what i did."
Prep Time: 10 min | Cook Time 10 min (depending on veggie selection)

Serves 1
Ingredients For Peanut Sauce
1 tablespoon of peanut butter

A big pinch of garlic powder and ground ginger

Lime juice from about 2 small wedges

1.5-2 tsp soy sauce

Red pepper flake

Stevia
Combine above in a small bowl and mix well.  Add in the stevia last, a little at a time to taste. If you need more soy sauce or lime, add more. It will be fairly thick still. 7.4g carbs, 8g fat, 5.7 protien, 115 cals.
Ingredients For Noodle Dish
3-4oz of Miracle Noodle Fettuccini

1/2 tbsp Coconut oil

2 oz of sliced meat - i used pork shoulder/butt steak

3/4 cup shredded cabbage

3/4 fresh broccoli florets (or another veggie you like)

1 clove of garlic, sliced


1 tsp fish sauce, soy sauce, and sesame oil

Stevia - optional 
Method
 Rinse the fettuccine noodles well, add to a dry pan over med-high heat. Cook the noodles until they dry out a little.

Add in the coconut oil and garlic, saute for 30 seconds, add in veggies and meat. 

Give everything a good stir, turn heat down to med and cover for just a few minutes, until veggies start softening.

Add in the fish and soy sauce, continue stirring until meat is fully cooked. Add a touch of stevia if you'd like. 

Turn off the heat and mix in peanut sauce and sesame oil. 

Note
Nutrition for this part will vary, depending on the veggies and meat you use. The soy and fish sauce only add about 1-2g carbs, the rest will be from veggies.