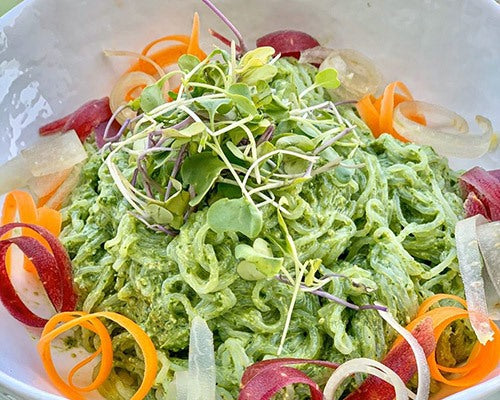 Craving for pesto? Make this vegan "pesto" pasta bowl with our Miracle Noodle Angel Hair.
Get our keto-friendly Angel Hair. 
Secret pesto ingredient: avocado
Secret pasta alternative: konjac noodles
BLEND:
2 giant handfuls of spinach
1/2 an avocado
1 squeezed lemon & zest, or 1 tbsp lemon juice
1/3 cup walnuts
1/8 cup olive oil
2-3 tbsp nutritional yeast (optional)
Salt & pepper to taste
*Author avoids garlic because of SIBO, but you can add loads of garlic if you can tolerate it. 
NOTES:
If you have basil & want to add, throw in 2 handfuls and a bit more olive oil.
You can mix about half this pesto batch (put the rest in the fridge) into 3 bags of Miracle Noodle Angel Hair pasta. They're Japanese noodles made from the konjac plant. SUCH a good low-carb/keto/paleo pasta option. Very filling & high in fiber!