Primal Pesto Pasta with Chicken, & Veggies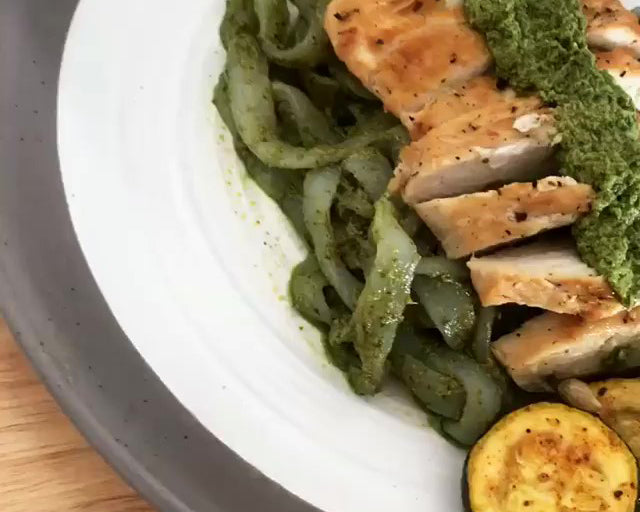 Check out this sweet Miracle Noodle action! Brittany and Kris from Instagram are delivering major meal feels with their Miracle Noodle Fettuccini! Thanks for the recipe, you two!

Follow this @brittanyandkris on Instagram for healthy eats!
INGREDIENTS:
1 package of Miracle Noodle Fettuccini
1 chicken breast
Unsalted butter (we used @kerrygoldusa)
1 zucchini
1/2 cup lightly toasted hemp, seed hearts
1/2 avocado
5 cups fresh basil (including the stems)
8 cloves of fresh garlic
1 cup of olive oil
Juice of a lemon
Salt & pepper to taste
We used @miraclenoodle as our pasta (you for sure have to get used to the texture of you're used to regular pasta, but it's amazing).
DIRECTIONS:
1. Prepare Miracle Noodle according to package. Rinse for 1-2 minutes. Drain. Dry roast in a pan over medium heat till all water is absorbed and noodle squeak. Set aside.
2. Cut chicken breast in half. Sear it in a pan with garlic, salt, pepper and a little bit of unsalted butter. Set aside to cool. Slice into strips.
3. Slice zucchini and season with salt and pepper to taste, then roast in the oven on 400 for about 20 minutes until browned.
4. Combine hemp seed heart, avocado, basil, garlic, olive oil, garlic, lemon juice with salt and pepper (to taste) in a food processor to combine till smooth.
5. In a bowl, combine Miracle Noodle Fettuccini with the pesto and allow flavors to absorb for a couple of minutes.
4. Plate with noodle and basil mix on the bottom, followed by roast zucchini, then sliced chicken.
5. Enjoy!