Roasted Chicken and Veggies Pad Thai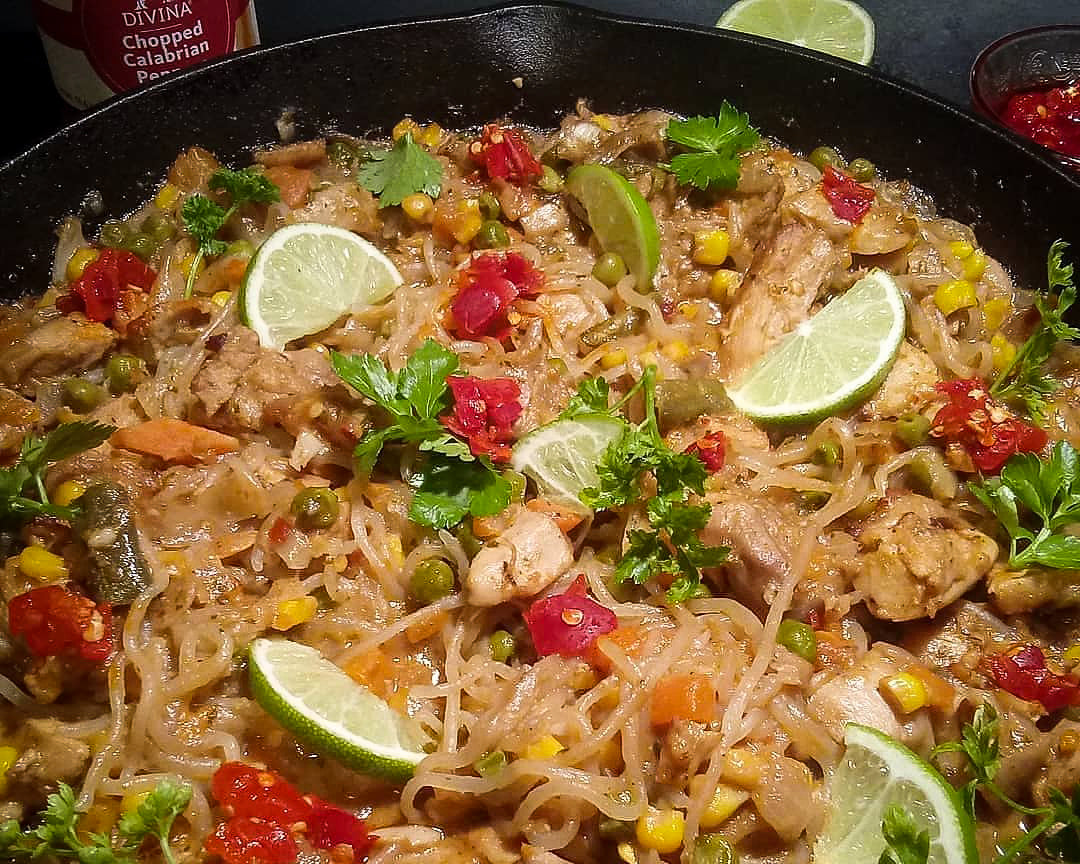 Enjoy this flavorful and easy Pad Thai-inspired dish. It's savory and slightly sweet.
INGREDIENTS:
1.25 lb boneless, skinless chicken thighs
16-oz pkg frozen veggies (or approx 4 C diced veggies)
2 C onions, diced
1 head garlic, minced
4-6 tbls butter
1-3 tsp Tutto Calabria Italian Spaghetta seasoning (chili peppers, garlic, parsley, salt, garlic, dried tomatoes)
1/2 tsp garlic salt blend (sea salt, onion, garlic, & parsley)
Black pepper
1/4-1/2 tsp Tutto Calabria Hot Powder Chili  (or cayenne)
Two 7-oz pkgs Miracle Noodle Angel Hair Pasta
1/2-2/3 C chicken broth
1/2 C Eliot's Spicy Thai Peanut Butter (or peanut butter + extra aminos)
1/4-1/2 C Yai's Thai Pad Thai Sauce- no + sugar, low-carb, (or fave Pad Thai Sauce)
2-3 tbls coconut aminos
1 tbls Liquid Aminos @bragg (or soy sauce)
Opt garnishes: Divina Chopped Calabrian Peppers  @divinaspecialty limes, herbs
Cast iron skillet or 9x13" baking dish
DIRECTIONS:
In skillet/baking dish place veggies, top w/chicken. In a bowl, melt butter in microwave, then stir in spices, garlic & swirl around to coat veggies & chicken. Bake at 400 degrees for 35 min, remove & dice up chicken into bite-size pieces, stir together. Return back to oven for + 25 min until done. Remove from oven & stir in peanut butter, Pad Thai sauce, aminos, & broth. Prepare Miracle Noodles (rinse, heat in dry pan abt 5 min until squeak), stir everything together & heat in pan 15 min, infusing flavors into noodles. Serve w/garnishes - Buon Appetito!