Seared Scallops With Green Curry Noodles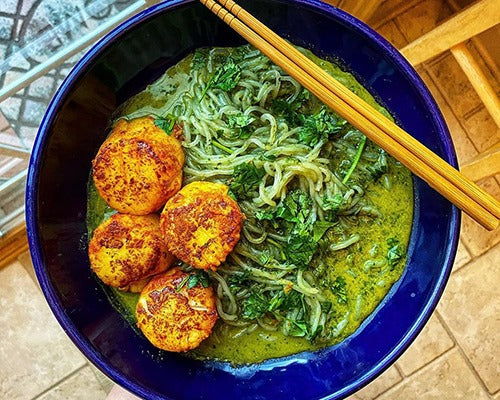 Feast your eyes on this Seared Scallops With Green Curry Noodles meal. Our Miracle Noodle Angel Hair is perfect for Asian dishes.

Pictured with our keto-friendly Miracle Noodle Angel Hair.
INGREDIENTS FOR GREEN CURRY:
1 Tbs green curry paste
1 tbsp fresh ginger
2 cups cashew milk
1 dash of fish sauce
1 tsp of sugar or sweetener of choice
1/2 tbsp of corn starch
1 handful of cilantro
Salt - to taste
Squeeze of fresh lime juice 
DIRECTIONS:
1. Simmer green curry paste with ginger and cashew milk. Add a dash of fish sauce, sugar and corn starch. Bring to boil, then simmer to allow to thicken a bit.
2. Blend a handful of cilantro and add to curry sauce (this adds flavor and beautiful green color!)
3. Add salt to taste and finish with lime juice. Serve over noodles and enjoy with favorite protein!