Shredded Chicken Burrito with Chips & Cheese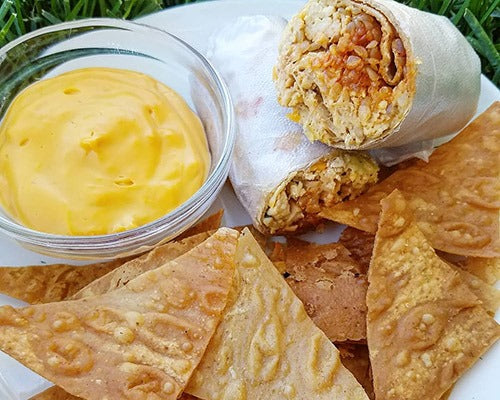 Add some spice to your meals with this Shredded Chicken Burrito with Chips & Cheese. This recipe uses our Miracle Rice in the filling. We suggest using one pack of our rice cooked in butter and a taco blend of spices. 
INGREDIENTS:

Chicken:
2 chicken breasts, cooked and shredded
1/2 tsp FlavorGod Taco Tuesday
Jalapeno Sauce:
1/4 cup mayo
1 Tbsp sour cream
2 tsp jalapeno, finely chopped
2 tsp jalapeno juice
1 tsp Lakanto monkfruit erythritol sweetener
1/2 tsp paprika
1/2 tsp cumin
1/8 tsp cayenne
1/8 tsp garlic powder
Sprinkle of salt
For Avocado Ranch combine:
1/4 cup guacamole
1/4 cup ranch dressing

DIRECTIONS:
1. Mix together all jalapeno sauce ingredients and let chill in fridge 3-4 hours but preferably overnight. Cook the chicken in the Instantpot with taco seasoning, then shred and mix in the jalapeno sauce.
2. Assemble burrito starting with a Mr. Tortilla Inc. multigrain tortilla. Top with avocado ranch, shredded cheese, jalapeno chicken, and Mexican Miracle RIce. Roll it all up and enjoy! For the chips & cheese, fried Cut Da Carb and some Rico's nacho sauce were used.