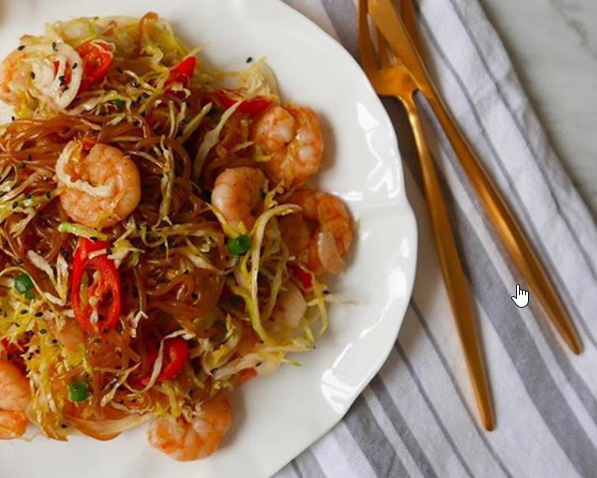 Enjoy this shrimp salad with hints of coconut, tamari, a kick from thai chili pepper, garlic and sesame seeds. Our Miracle Noodle Angel Hair pasta absorbs the flavors of this dish for an aromatic and delicious experience. Recipe by Miracle Noodle Ambassador, .

Serves 2
Ingredients
1 (7 ounce) packet of Miracle Noodle Angel Hair

1/2 of a Japanese cabbage, shredded

250g or approximately 25 pieces raw or defrosted shrimp, peeled, deveined, tails off

1 Tbsp coconut oil

1 tsp salt (Leisia recommends Maldon Sea Salt Flakes)

2 Tbsp tamari (or soy sauce)

1 Tbsp sesame oil

1 large Thai chili pepper, thinly sliced

2 cloves garlic, minced

1/2 lemon, seeds removed

1/8 cup spring onion, thinly sliced

A pinch of black or white sesame seeds
Method
Shred your cabbage and slice your chili pepper and spring onion so they are all ready to go!

Prepare Miracle Noodle as per cooking instructions and set aside

. 

Heat coconut oil in a large skillet over medium heat. Add garlic, and cook until soft. Add shrimp and 1 tsp salt for seasoning and cook, stirring frequently, until they are a bright orange shade, approx 2-3 mins. When ready, set them aside.

In the same or a new skillet or pan, heat sesame oil on medium-high heat, add the thai chili slices and miracle noodles, top with tamari and mix until your noodles are all a transparent brown color.

Next, toss all the ingredients together in a large salad bowl and squeeze fresh lemon on top.

Serve on a plate and garnish with spring onion and sesame seeds

.