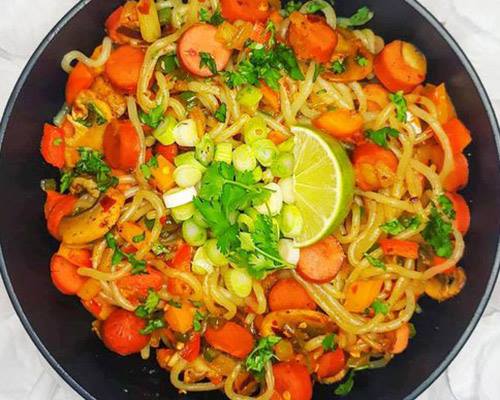 Hotdogs are a favorite summer food. This easy-peasy spicy recipe uses our Angel Hair pasta that you can cook up with hot dogs and spices for a fun summer meal.
INGREDIENTS:
1 package Miracle Noodle Angel Hair  
half onion chopped
half bell pepper chopped
4 mushrooms sliced
3 hot dogs chopped
1/2 tsp Himalayan salt
1/2 tsp garam masala
1/2 tsp turmeric
1 tbsp red chili flakes
1 tbsp soy sauce
Cilantro to garnish & line wedge
DIRECTIONS:

1. Prepare Miracle Noodle according to package.
2. Fry veggies and hot dogs for approximately 5 minutes.
3. Add in spices, mix and fry for another 5 minutes.
4. Toss in noodles and mix.
5. Mix in soy sauce.
6. Garnish and serve.