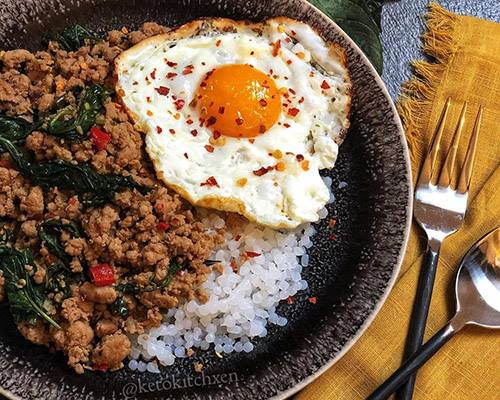 Enjoy this simple ground chicken or turkey rice topping recipe! It uses our shirataki rice that's gluten-free, keto-friendly, vegan, and soy-free.
INGREDIENTS:
1 lb Ground Turkey or Ground Chicken
3 cloves garlic (minced)
4-8 birds eye chilies, chopped (i used 8 pcs.. adjust based on desired spice level)
1 green onion, sliced to small pcs
1 1/2 tbsp avocado oil
1 c fresh basil 
SAUCE:
4 tbsp coconut aminos
2 tbsp fish sauce
1/2 tsp salt
1/2 tsp pepper 
DIRECTIONS:
1. Heat the avocado oil in a large pan over medium-high heat and cook the chili, garlic, green onion until fragrant, then add the ground turkey and let it cook through. Drain the excess juice if any.⠀⠀⠀⠀⠀⠀⠀⠀⠀⠀
2. Pour the sauce and stir to combine. When the turkey is done, stir in the basil and let it cook for 1 minute or until it starts to wilt.
3. Serve with Miracle Rice prepared according to package.