The Easy 5 Ingredient Keto Cookbook with Jen Fisch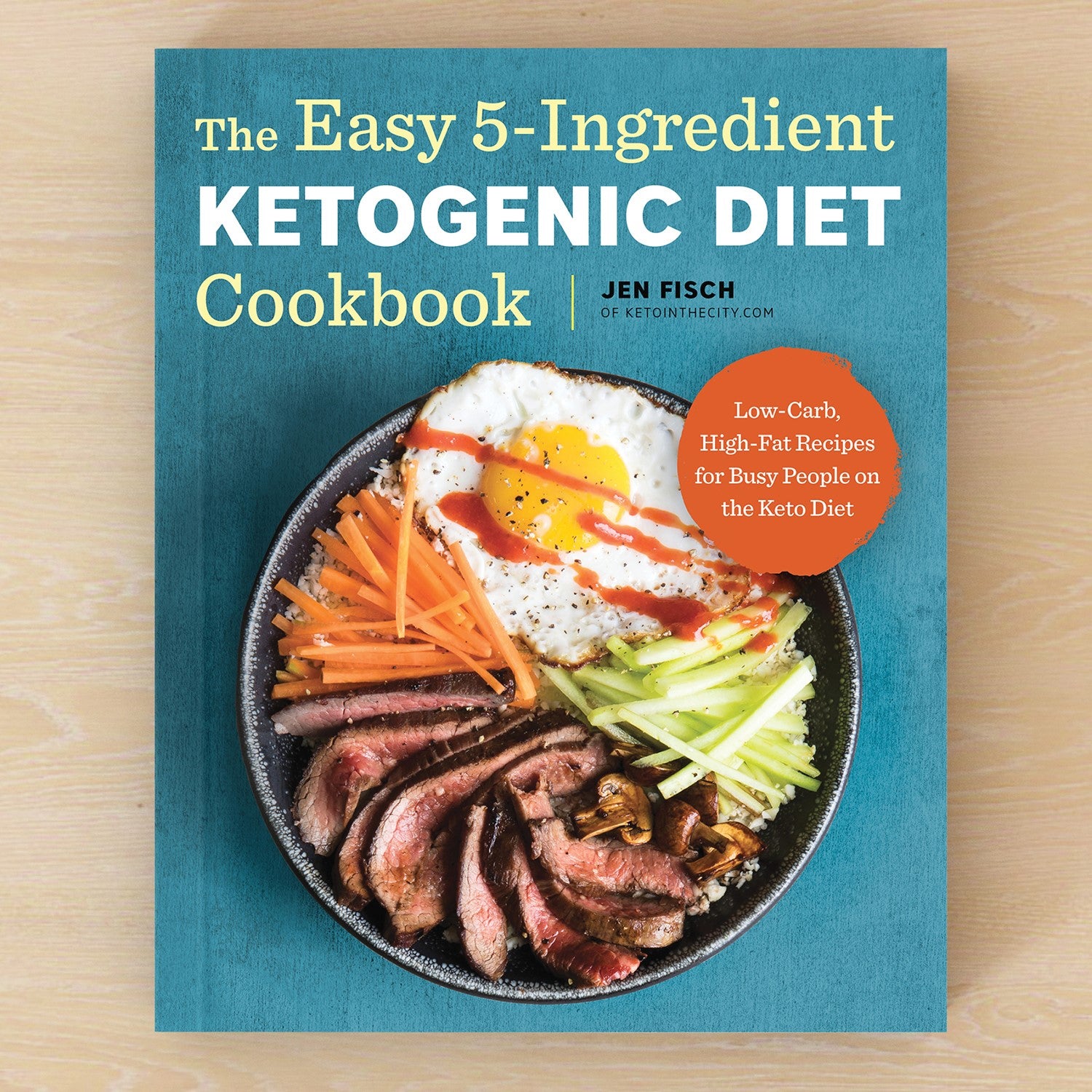 We LOVE our Ambassadors! They are creative in the kitchen. Driven to better themselves and motivate others through healthy living. Today, we shine the spotlight on Jen Fisch! Jen is passionate about living the keto lifestyle to improve her health. Her journey is an inspiring one that has taught her a lot about nutrition and how her body works. In the process, she's become a master at keto cuisine, and has just released her first cookbook which features Miracle Noodle in a couple of recipes! We are so happy and proud, that we are doing a giveaway! Jen will give a copy of her book, The Easy 5-Ingredient Ketogenic Diet Cookbook and we will giveaway an
Ultimate Variety Sampler
to a lucky winner! Fellow Ambassador, Teri Market, visited with Jen about her experience! Read on to learn more about Jen and how you can win this amazing prize package!
Who is Jen Fisch?
I am a busy single mom who began living a ketogenic lifestyle as a way to control the inflammation in my body caused by two autoimmune disorders, psoriatic arthritis. I am also a creative director, a blogger and now a published author of my new cookbook, The Easy 5-Ingredient Ketogenic Diet Cookbook!
How did you become familiar with the ketogenic way of life?
About ten years ago I followed an Atkins style low carb diet after an MD recommended I cut sugar out of my diet. I followed that higher protein, low-carb approach for a couple of years, but ultimately stopped because I was always hungry. Years later I started researching low-carb again and read an article about keto and hoped that the keto approach to low-carb (high fat, moderate protein, low-carb) would work better for me. I dove in, and almost two years later I am happy to report it has been very successful for me!
How has it changed your life?
Keto has changed my life in a lot of wonderful ways. First, it has kept me feeling healthy and energetic so that I can live my best life with my daughter. Second, I started my keto focused Instagram account
@ketointhecity_
about a month into my keto journey, and that has opened so many exciting doors for me! I have gotten to connect with other keto evangelists from all over the globe. It led me to my blog and ultimately the chance to write a cookbook which is something I never thought I would do!
When did you discover your passion for cooking?
I would say I really started loving cooking about six years ago. I started ordering Blue Apron meal kits and started scouring Pinterest for recipes and got excited about cooking different foods. It became my stress reliever at the end of a long day at work. Eventually, I started feeling more comfortable with different flavor combinations and started writing more of my own recipes!
Who inspired you to be healthy?
My daughter always inspires me; I want to be my best for her. I have also had really tough years, medically speaking, so I try to do everything I can to not get back to that place.
What kind of feedback have you received about your work?


It has been really amazing to see all of the support the keto community and keto friendly brands have given me, it's really humbling, and I am super grateful. I absolutely can't wait for people to receive their cookbooks and start tagging me in photos, that will be the best part:) I originally started my keto Instagram as an anonymous page to just have a place to show my food, so it is pretty incredible what it has turned into!
What's the most rewarding aspect of your journey in building your own brand?
For me, I have spent my whole career as a Creative Director helping other people build their brands, so it is super strange to start thinking of myself as a brand! But it is really exciting, and I can't wait to continue to try and make keto easy and accessible to as many people as possible.
How did you discover Miracle Noodle?
I originally found them in a little market on the westside of Los Angeles (Rainbow Acres). One of my favorite pastimes is roaming health food grocery stores (weird, I know) and looking for new products and new brands. I came across these magical noodles that had no carbs! I couldn't wait to try them, and I instantly felt so excited about the possibilities of all of the dishes that suddenly became possible using the Miracle Noodles and Rice!
What is your favorite Miracle Noodle product and why?
I love the
Ziti
noodle! It makes me feel like I am eating a super carb-loaded dish, but with zero guilt! I usually load them up with meat sauce and parm or alfredo sauce. But I actually really love them all! I will also mix the flavors of the different noodles at times!
What's next for you?
For now my new cookbook! I haven't received a real-life printed one yet, but it is up for preorder on Amazon. I can't wait for it to arrive and for people to start cooking with it. I really hope it takes some of the intimidation out of going keto. In my opinion, keto is at its best when kept simple, so all of the recipes have just five main ingredients and then one or two pantry items. The pantry items are just salt, pepper, butter, ghee, and olive oil- so SUPER simple! Many of the dishes can also be made in under 30 minutes and in one pot or pan. I do not have much free time, so easy is key!
HOW TO WIN OUR EXCLUSIVE GIVEAWAY!
(Available only to US Residents)
* Like Miracle Noodle on
Facebook
and/or
Instagram
and/or
Twitter
* Like
@ketointhecity_
on Instagram and/or
Facebook
and/or
Twitter
* Watch for a post THIS WEEK on Facebook, IG, and Twitter. When you see it, like it and tag a friend!
* The more social media channels you enter through increases your odds of winning by giving you additional entries!