Vegan Buttery Miso Noodles with Basil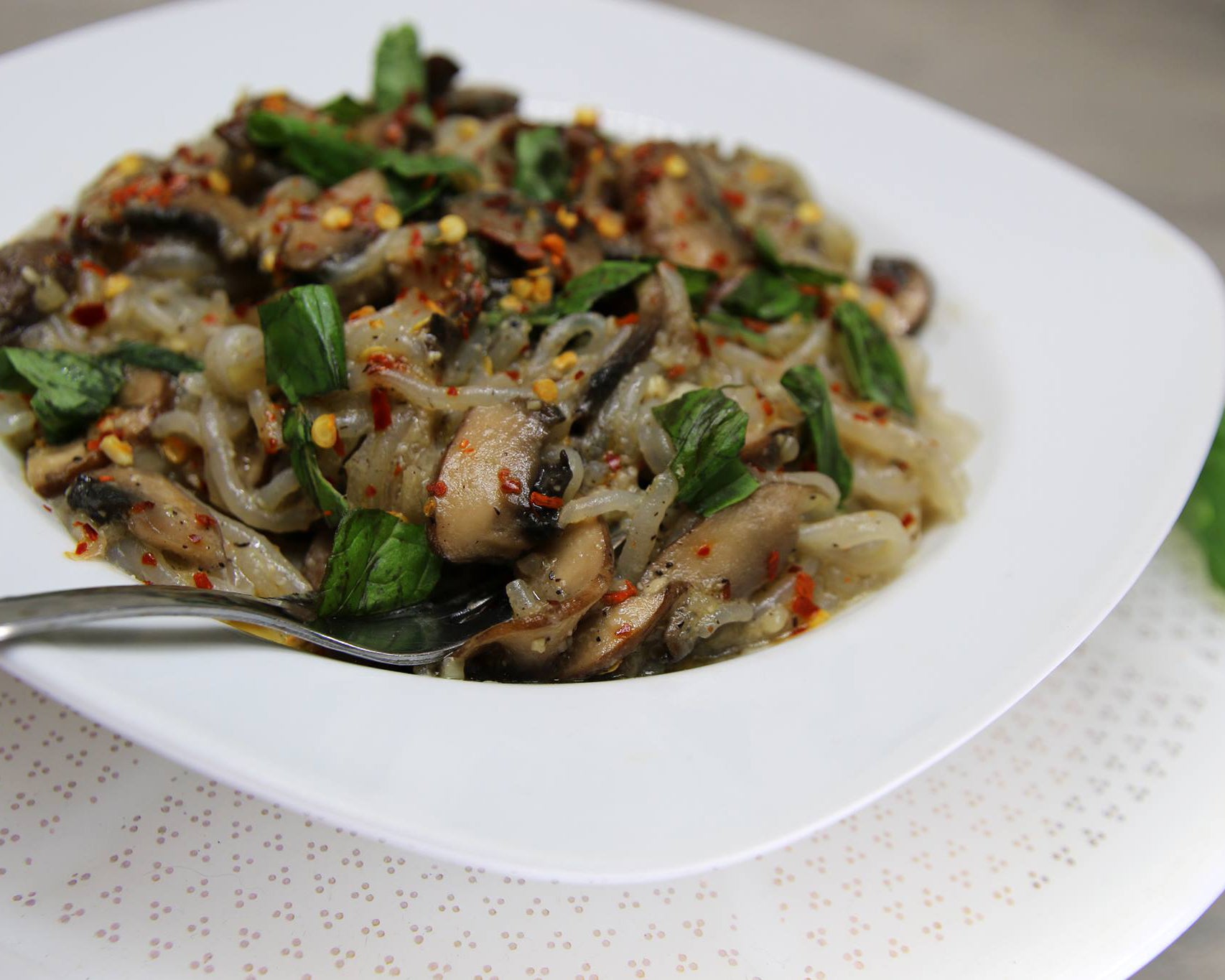 Tasty AND vegan AND keto? Sign us up! Check out what Miracle Noodle Ambassador
 Teri

 Tenseth Market

 

cooked up!

"I made a great vegan meal the other night using Miracle Noodle Angel Hair, Konjac Flour, and

 

MELT Organic

 

Butter. In fact, Jon ate THE WHOLE THING before I could even get to it. I figured if we were going to try a meatless approach to mealtime, why not try this butter alternative. You know what? IT WORKED! It went well! I was able to get a bite in before it was dev

oured after the shoot. Will definitely try this recipe again.

The original recipe was adapted from The Kitchn website by Kelli Foster. Being a keto household, we added our own twist. This recipe calls for white miso paste. If you can't find that, try tahini, maybe add some Bragg's Liquid Aminos for taste. Also, if you can't find cemini mushrooms, I know bella's would work great too!"

Recipe by Terese AKA @fcpchick on Instagram.

INGREDIENTS:

2 packs of Miracle Noodle Angel Hair
8 tablespoons of MELT Organic Vegan Butter, divided into 2 and 6
1 medium shallot, thinly sliced
2 cloves of garlic, minced
6 ounces of cremini mushrooms, stems removed and thinly sliced
1/2 teaspoon of salt
1/4 teaspoon of black pepper
1/4 cup of white miso paste or tahini
1/2 cup of water
1/4 teaspoon of Miracle Noodle Konjac Flour (or xanthan Gum, Guar Gum, or Coconut Flour to thicken)
1/4 cup of torn fresh basil
1/4 teaspoon of red pepper flakes

DIRECTIONS:

1. Set a pot of water to boil. Rinse Miracle Noodle for 1 minute, then drain. Add to boiling water for 2-4 minutes. Drain again and cut into shorter strands. Place Miracle Noodle in a naked pan over medium heat till noodles are dry and start to squeak when moved.

2. Melt 2 tablespoons of MELT Organic to a large pan and melt. Add shallot and garlic and cook, stirring constantly til slightly softened and fragrant.

3. Stir in mushrooms, salt, and pepper. Keep stirring till mushrooms become tender.

4. Add remaining "butter" and continue stirring till melted. Whisk in the miso and water. Simmer to thicken and adjust thickness of sauce by adding Konjac Flour.

5. Fold Miracle Noodle into the mixture till well coated. Remove from heat and gently mix in basil and red pepper flakes.