Vegan Meatballs over Miracle Ziti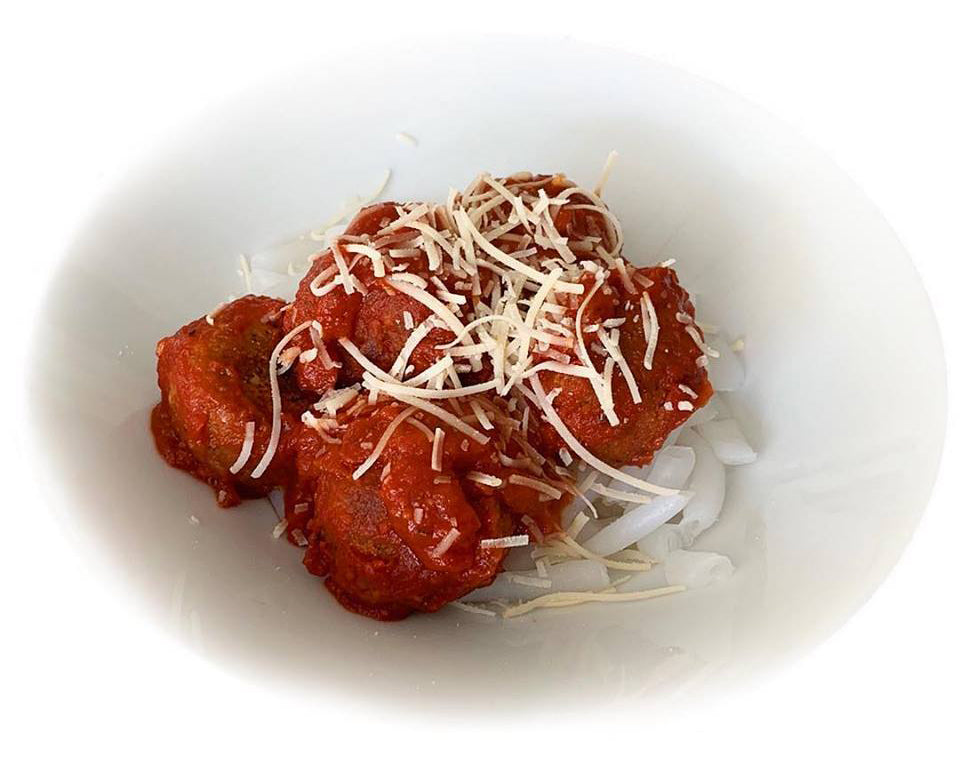 Meatless Monday is a great way to start your week! Check out these vegan meatballs served over our keto-friendly ziti. This meal is from our Ambassador, Danielle Prado.
"I whipped up some delicious vegan veggie meatballs using Beyond Meat's beyond burger patties and just a few other ingredients (including celery pulp). These are perfect with my homemade pesto, zero point pasta sauce (both recipes are on my site) or a traditional marinara. I served them over a bag of
 Miracle Noodle's
 Z

iti with a little Follow Your Heart vegan Parmesan on top. Tag someone who would love these."
Recipe by Danielle AKA @danielle.vegan on Instagram.
INGREDIENTS:
1 pack of Miracle Noodle Ziti, prepared according to package instructions.
3 Beyond Meat Beyond burger patties, uncooked
1/2 cup Italian bread crumbs (you can use gluten-free)
1/2 cup Follow Your Heart parmesan shreds 
1/2 cup blended celery pulp or finely shredded carrot, raw 
1 tablespoon ground flax seed 
1 teaspoon pink salt
1 teaspoon black pepper


DIRECTIONS:
1. Preheat oven to 375.
2. Combine all ingredients in a medium bowl and use hands to combine well.
3. Roll into 15 one-inch sized meatballs.
4. Place into a large sauté pan, coated with a small amount of olive oil or avocado oil.
5. Allow to brown for five minutes then flip to brown another five minutes.
6. Place meatballs on a parchment lined cookie sheet and bake for 15 minutes, or until meatballs are slightly firm to the touch.
7. Prepare a sauce while they are in the oven. I have a pesto sauce recipe and a zero point red sauce recipe on my site. You can also combine one can of organic tomato sauce to the large pan, add seasonings and warm.
8. Place cooked meatballs in sauce and simmer for five minutes.
9. Serve over a bag of Miracle Noodles (I used ziti).
Note: To reheat leftover meatballs, use the oven or toaster oven.