Vegan Miracle Rice Stuffing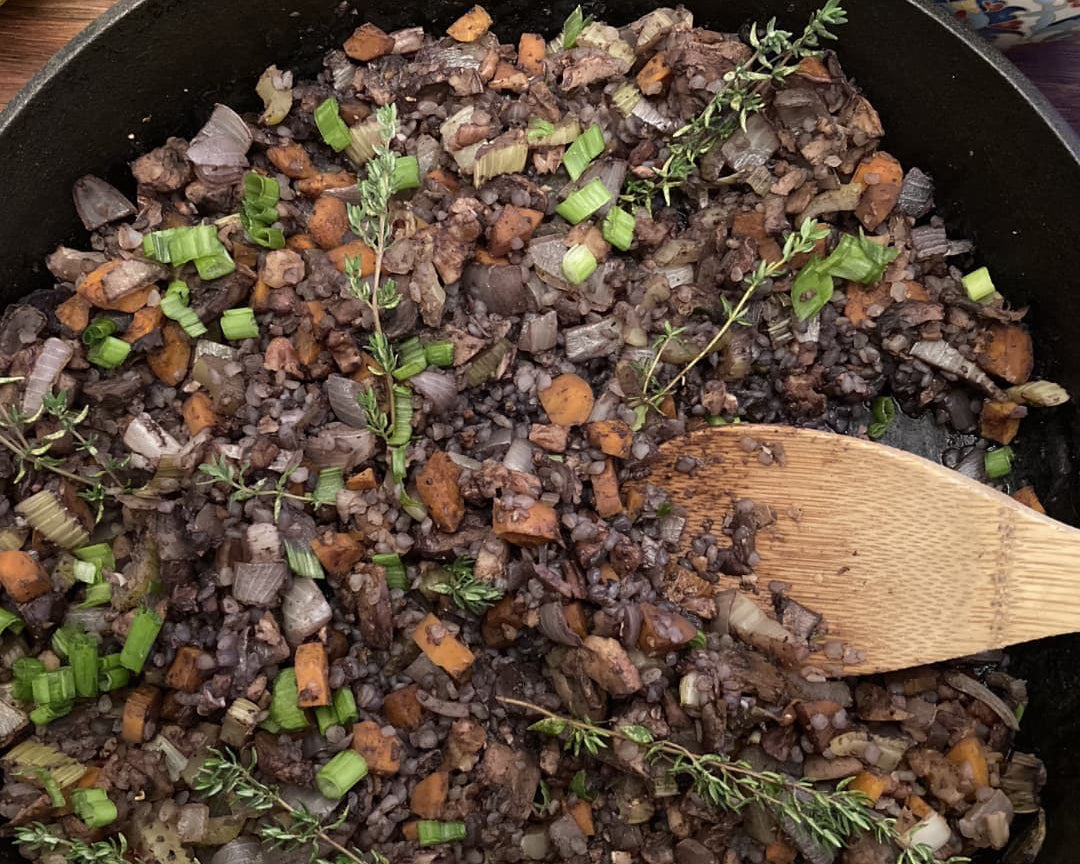 Looking for a flavorful low carb stuffing recipe, one that's healthy & light to complement your holiday dinner? This easy keto stuffing made with Ready-To-Eat Miracle Rice, veggies, nuts, & savory seasonings that taste like the holidays can be prepped in about 10 min. before roasting in your oven.
INGREDIENTS:
2 seven-oz packages Miracle Rice drained
2/3 C nuts, chopped
8 oz mushrooms, diced
1 cup carrots, diced*
1 cup onions, diced*
1 cup celery, diced*
(*can sub frozen veggies)
1/2-1 tsp/to taste everyday seasoning - consisting of sea salt, mustard seed, black peppercorn, coriander, onion, garlic, paprika, chili pepper (or ind.spices)
1/2-1 tsp/to taste multipurpose umani seasoning blend Mushroom & Company - consisting of kosher salt, dried onions ground mustard seed, porcini mushroom powder, white button mushroom powder, crushed red pepper, black pepper, dried thyme (or ind.spices)
Black pepper to taste
2-4 cloves garlic, minced
1/2 cup vegetable broth
Cast iron skillet (or large baking dish)
Opt 1/2 cup green onions, diced garnish
Opt garden/dried herbs garnish
Opt nutty/seed oils garnish such as Pumpkin Seed; TJ's Roasted Sesame Seed (for + healthy fats & sublime flavor)
DIRECTIONS:
1. Add diced veggies, Miracle Rice, nuts, seasonings, garlic, & broth to skillet/ baking dish. Mix together.
2. Bake at 400 degrees for approx. 40-45 min. stirring a couple of times. When ready to serve, adorn w/garnishes - Buon Appetito!