Vegan Spinach Basil Pesto with Miracle Noodle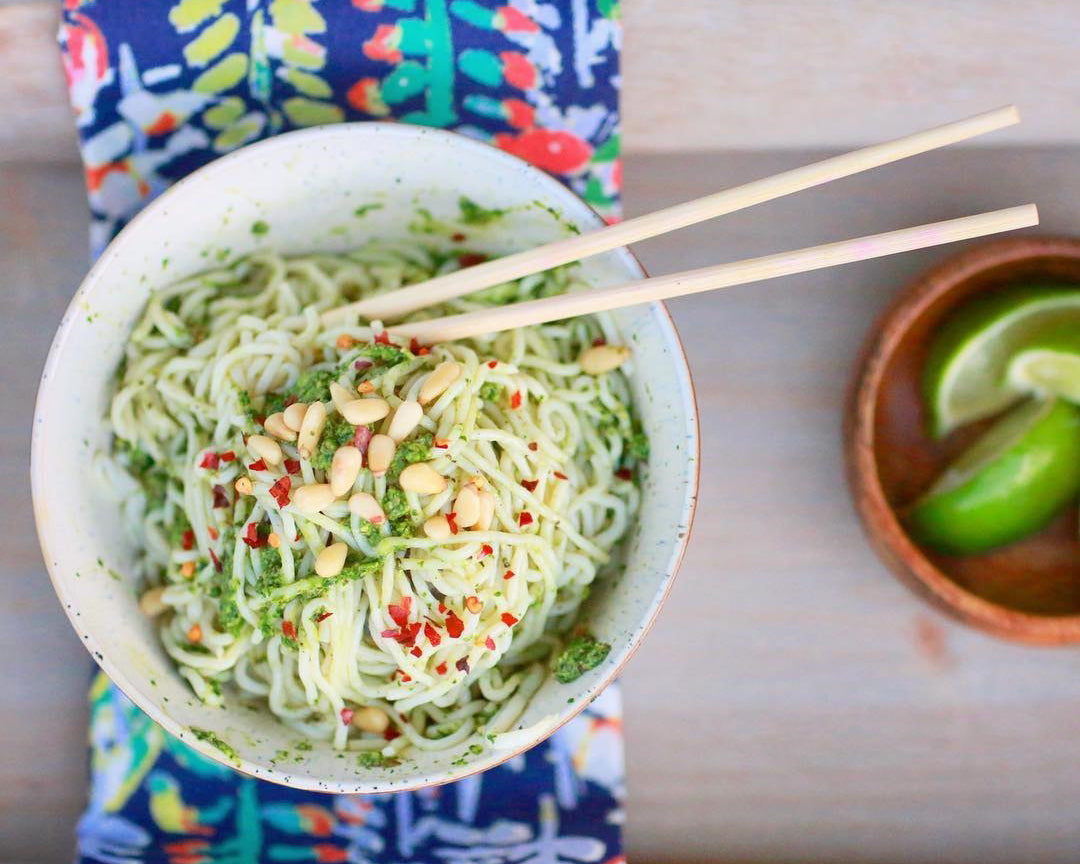 Miracle Noodle is an easy way to take recipes you like and make them meet your low-carb macros! Simply swap our noodles for traditional ones and prepare according to package. Check out this perfect example for your Meatless Monday from Jennifer!
"Fancy a bit of a kick? Tip: toss red pepper flakes in with your fresh pesto ingredients! 🌶 I already LOVE vegan pesto, but the red pepper flakes bring this creamy, green-goodness to a whole new level 

Keep it low-carb by using shirataki AKA Miracle Noodle.

*My recipe pesto modifications are in parenthesis* --- @saucyketo on Instagram
Spinach Basil Pesto Recipe By: Dianne from All Recipes
"This sauce is perfect for freezing in an ice cube tray. I just pop out a couple of cubes from the freezer and add to a pasta dish for a quick and easy meal. The Parmesan cheese can be omitted and added after thawing. Pour any pesto you aren't using immediately into an ice cube tray, cover with plastic wrap, and store in freezer." - Dianne

Nutrition for Entire Recipe:

Calories: 1701.7
Carbs: 20.3 grams Net Carbs: 16 grams
Protein: 30.6
Fat: 173
INGREDIENTS:

1 pack of Miracle Noodle Angel Hair
1 & 1/2 cups baby spinach leaves
3/4 cup fresh basil leaves (I used dried b/c I didn't have fresh)
1/2 cup toasted pine nuts (I toasted my own, just takes 10 mins while you're getting everything ready)
1/2 cup grated Parmesan cheese (vegans use 1/3 C nutritional yeast)
4 cloves garlic, peeled and quartered
3/4 teaspoon kosher salt
1/2 teaspoon freshly ground black pepper
1 tablespoon fresh lemon juice
1/2 teaspoon lemon zest
1/2 cup extra virgin olive oil
DIRECTIONS:
1. Prepare Miracle Noodle. Rinse for 1 minute, then boil for 2. Drain. For the best texture, "dry roast" the noodles in a hot pan over medium heat and move the noodles around till all water is absorbed. Set aside.
2. Blend the spinach, basil, pine nuts, Parmesan cheese (nutritional yeast), garlic, salt, pepper, lemon juice, lemon zest, and 2 tablespoons olive oil in a food processor until nearly smooth, scraping the sides of the bowl with a spatula as necessary. Drizzle the remaining olive oil into the mixture while processing until smooth. Fold in Miracle Noodle.