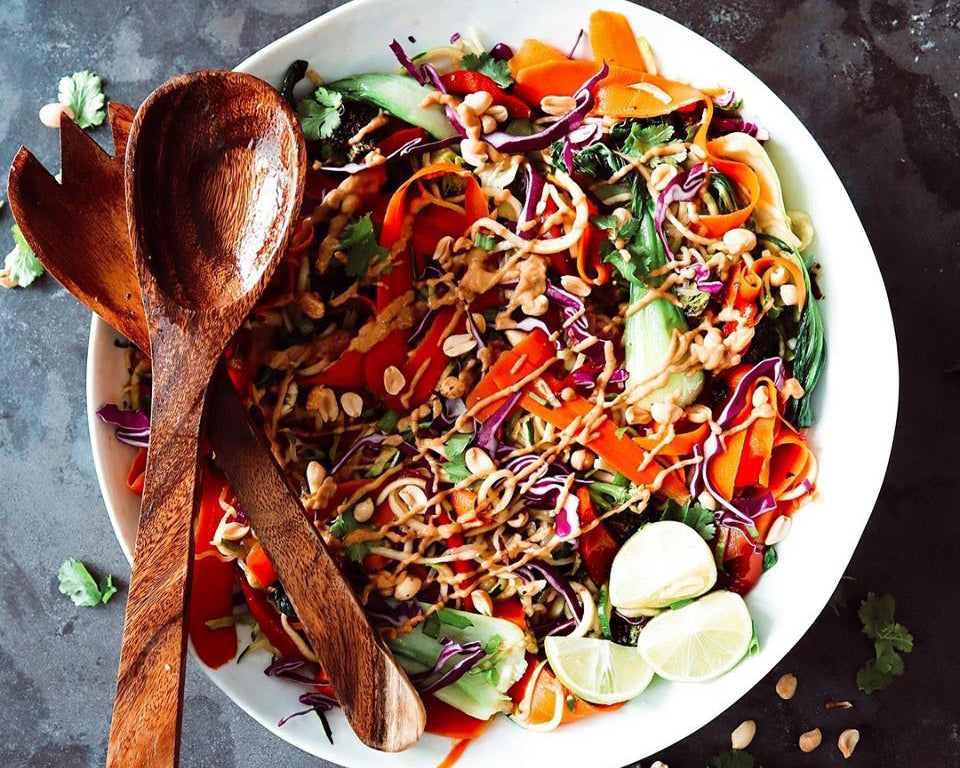 Check out this veggie dish packed with colorful, healthy ingredients perfect for your plant-based meals! Thanks to Blake for the meal.
INGREDIENTS:
1 pack of Miracle Noodle Angel Hair
Zoodles, raw (spiralized zucchini)
5 carrots, ribboned
1/2 head of purple cabbage, shredded
Bok choy
1 head of broccoli
1 red pepper
3 scallions, chopped
1/2 cup peanuts
Limes
Cilantro
SAUCE:
1/2 cup coconut aminos
1 tablespoon rice vinegar
1 tablespoon sesame oil
Juice of 1/2 lime
DRESSING:
1/4 cup peanut butter
2 tablespoons chickpea miso
3 tablespoons coconut aminos (or soy sauce if you're down for that, if you are, add sweetener of choice)
Juice of 1/2 lemon
1/3 cup of water (add more for runnier consistency)
tablespoon apple cider vinegar
DIRECTIONS:
1. Prepare the dressing by combining and mixing all ingredients.
2. Prepare Miracle Noodle according to package. After the last step, let miracle noodles marinate in half of the sauce in the fridge.
3. Heat up 1 tablespoon of avocado oil over medium heat, add broccoli, red peppers and 1/2 teaspoon salt. Sauté until slightly crispy, add bok choy at the end for 2 minutes, remove from pan.
4. Oil the pan again. Add carrots and cook for 3 minutes, add 1-2 tablespoons of water, cover and let cook for 1 minute, remove and drain.
5. Once cooled, mix veggies, Miracle Noodle, peanuts, and cilantro in a bowl with the sauce. Add the dressing (start with half) and garnish with lime, more peanuts, and cilantro!