Vietnamese Turkey Noodle Salad with Nuoc Cham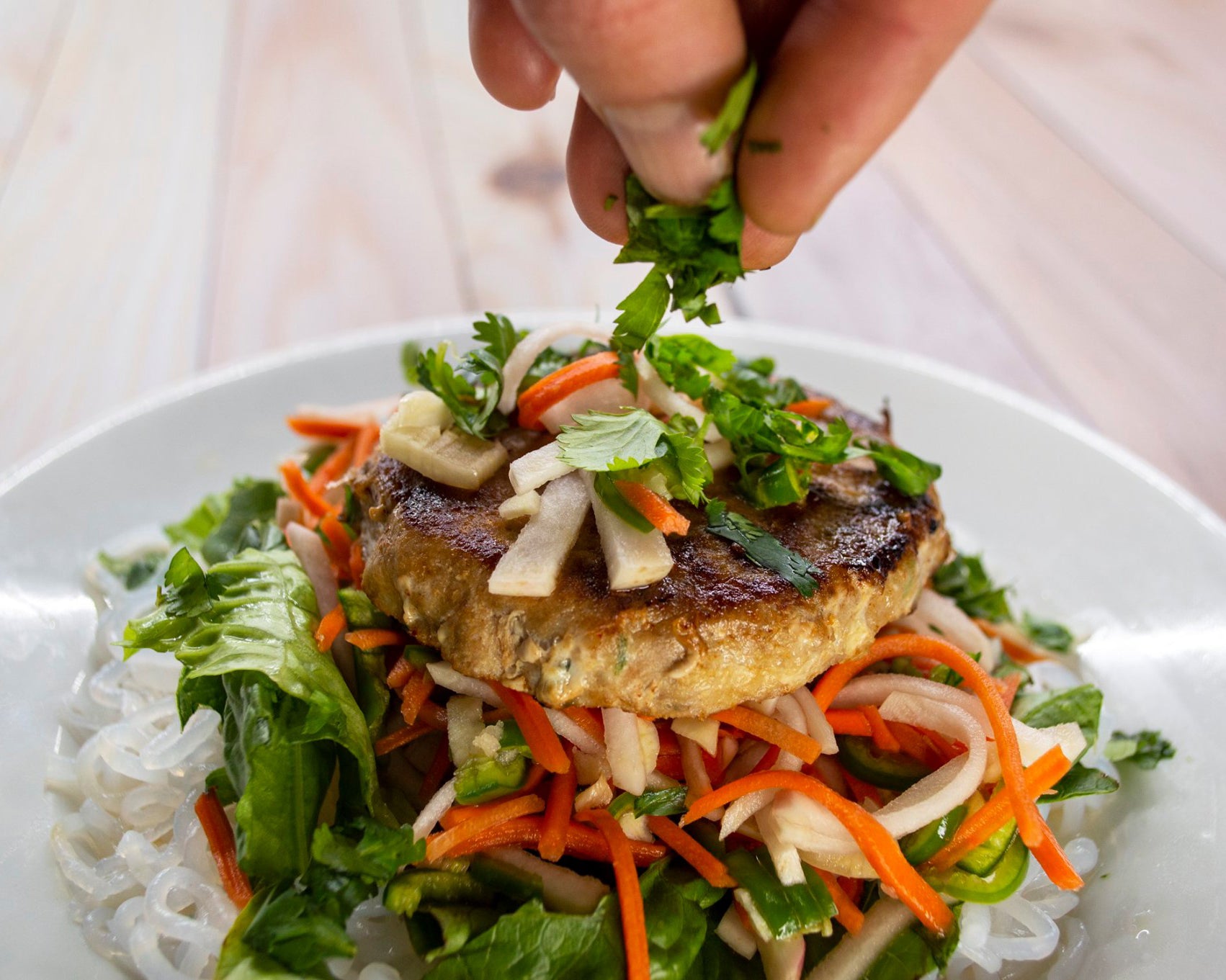 You do not have to be keto or even low-carb to enjoy Miracle Noodle. Check out how
 Teri

 

balances her macros for the day using our noodles!

"Some days I try and save up my carbs for a meal out with my husband, family, or friends, or save them up for the weekend. That's why I created this noodle salad. I wanted to add some texture to my lunch and I love noodles! Enter Miracle Noodle.

Miracle Noodle

 is made from fiber pulled from the root of the Japanese Kon

jac plant. It's low-carb, full of fiber, and great for the gut!

This recipe is adapted from Thai Moreland. The original is Vietnamese Noodle Salad with Pork Patties (Bún Cha). I swapped a couple of ingredients. This recipe serves 2."

Recipe by Teri Market AKA @fcphick.



VEGGIE INGREDIENTS:

1 pack of Miracle Noodle Angel Hair
Kosher salt
1/2 cup very thin carrot strips
1/2 cup very thin daikon radish
3 tsp. of sugar or equivalent sweetener of choice
1 tsp. red-wine vinegar

DIRECTIONS:

1. Prep Miracle Noodle according to package. Set aside.
2. Place carrots and daikon in a colander and sprinkle with sweetener, vinegar, 1/4 tsp of salt and mix thoroughly. Let colander rest in sink for 10 min and then gently press the liquid out of the veggies. Set aside.

INGREDIENTS VIETNAMESE DIPPING SAUCE (NUOC CHAM) 

3 large cloves of garlic, minced
1 serrano pepper, thinly sliced
1 cup of water
1/2 cup of fish sauce
1/2 cup red wine vinegar
1/2 cup of sugar or equivalent sweetener alternative

DIRECTIONS:

Stir all the ingredients together. Soak veggies from above in the sauce.

ADDITIONAL INGREDIENTS:

2 Tribali Food turkey patties (or any turkey patties)
6 large leaves romaine lettuce, torn into bite-size pieces
1 cup roughly chopped fresh mint
1 cup roughly chopped fresh cilantro

DIRECTIONS:

1. Cook patties according to package. Set aside when done.

2. Divide and MIracle Noodle. Divide and distribute the following between the two plates in this order — Romaine, half the marinated veggies, turkey patty, remaining marinated veggies, mint, cilantro.

3. Serve with the remaining sauce from veggies.