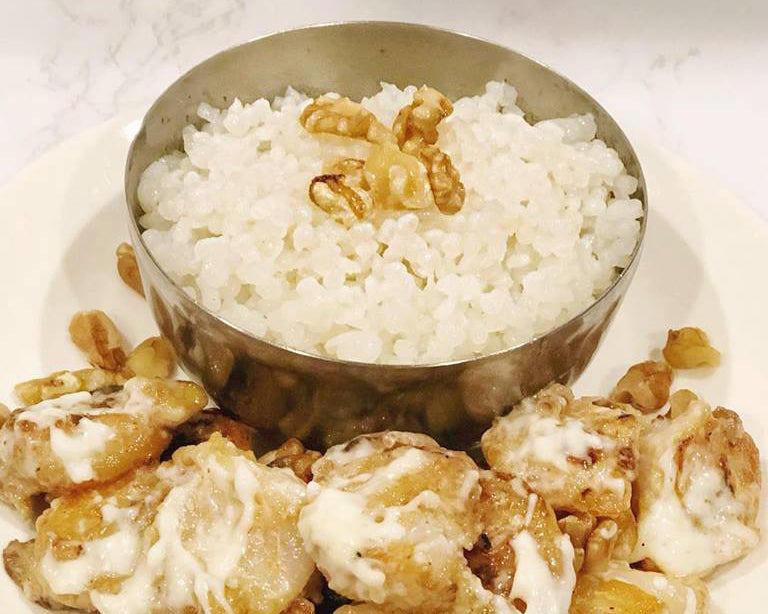 How about some fried shrimp with a side of keto-friendly rice? Check out what Jenny made. We think this is a tasty option for your Fish Friday this week!

"Walnut shrimp, keto style! served with Miracle Rice (not a surprise, I know).
INGREDIENTS:
1 pack of Miracle Rice
Sweetener of choice
1/2 cup of water
1/3 cup of mayonnaise
1/2 cup of walnuts, chopped
3 egg whites
1/2 can of coconut milk
1 tbsp of butter
2 tsp of sweetener
1/2 cup of arrowroot flour/starch
Olive oil or avocado oil for frying 
1 bag of shrimp
DIRECTIONS:
1. Follow the miracle rice instructions and add this extra step, heat saucepan on med heat, toss in rice to remove excess water and add 1tsp of olive oil.
2. Make your keto condensed milk. Simmer coconut milk and butter over med heat & add sweetener to taste. This may take some time to thicken. Let cool before using.
3. In a small saucepan, bring water to a boil and add in 2 tsp of sweetener (I used LUV) and toss in walnuts. Boil for 3 min and drain, spread on a pan and bake for an additional 7 min on 350 (this part is optional).
4. Mix condensed milk, mayo, and sweetener (to taste) in a bowl. Set it aside.
5. Take egg whites and mix it into a bowl and start whisking it so that it turns white and foam like.
6. Gradually add in arrowroot flour and stir, stir, stir. It will be ready when the consistency gets thicker.
7. Heat oil in a pan on med/high heat. Dip the shrimps into the arrowroot/egg "batter" and fry those suckers up. Feel free to gently pat the shrimp to get excess oil out!
8. Enjoy with Miracle Rice.