White Wine Clams with Fennel, Shiitake, Pancetta, and Miracle Rice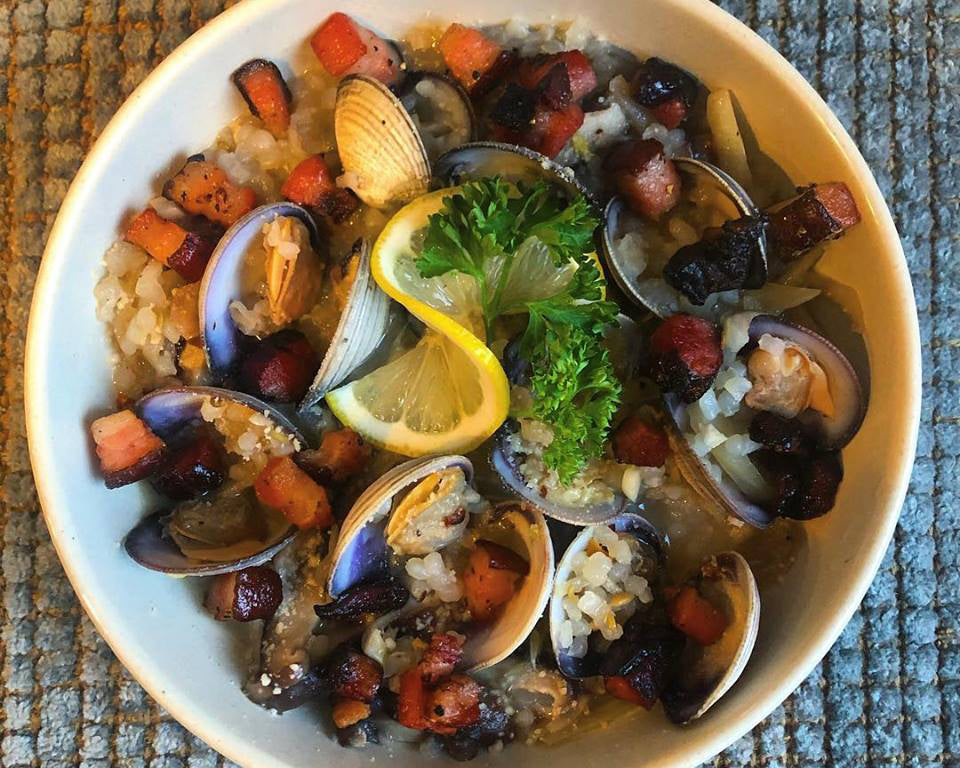 Just in case you're still planning a romantic dinner this weekend, Chris is here to give you a great recipe sure to impress. It's keto, and features our Miracle Rice, clams, and pancetta!
"This dish has date night written all over it. Its flavors are rich yet bright, and has a comforting yet gourmet quality about it. I first had a similar dish at an Italian/seafood restaurant, then again at my buddy Alex's place, and I fell in love! I think you will too, try my recipe below."

Recipe by Chris Bautista AKA @bautistud on Instagram.
INGREDIENTS:
Serves 4
2- 8 oz packets of Miracle Rice
2 lbs of fresh clams
1 cup of sliced fennel
1/3 cup of sliced shallots
4 cloves of minced garlic
2 1/4 cups of sliced shiitake mushrooms 
2 cups of cubed pancetta 
1/2 tbsp fennel seeds 
1 tbsp of red chili flakes 
1 1/4 cup of dry white wine 
4 tbsp of butter 
1 cup chicken stock
1 lemon 
Freshly chopped parsley (garnish)
Grated Parmesan Cheese (garnish) - place clams in a bowl of cold, fresh water
DIRECTIONS:
1. Place clams in a bowl of cold, fresh water.
2. Prepare Miracle Rice according to package and set aside.
3. In a large saucepan, sauté pancetta on med-high heat (no cooking oil necessary) for about 7 minutes, or until crispy. - Remove pancetta (set aside), drain most of the drippings from the pan, leaving about a tbsp of fat.
4. Add fennel, shallots, fennel seeds, and chili flakes to the pan, sauté for 5 minutes on med-high heat.
5. Add garlic and mushrooms, sauté for 5 minutes - Add white wine, bring to a boil, and stir continuously till it reduces (about 8 minutes).
6. Add butter and chicken stock, bring to a boil. Add sea salt and freshly cracked black pepper (roughly a tbsp of each). Stir for 5 minutes. - Add Miracle Rice and clams, bring to a boil.
7. Cover saucepan with a tight-fitting lid and turn heat down to a simmer. Let simmer for 15 minutes, or until all the clams have opened up. Squeeze 1 lemon over the top.
8. Serve in a bowl with the broth on the base, and the pancetta, chopped parsley, and freshly grated Parmesan cheese on top. Enjoy!