Allison G, West Babylon, NY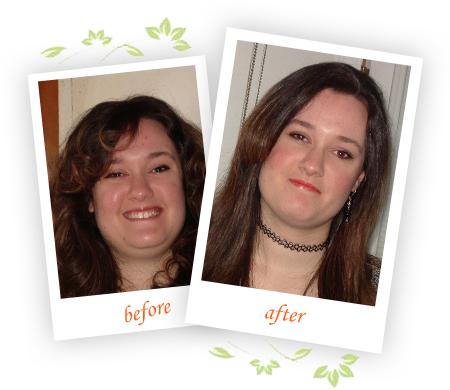 Miracle Noodles Help 22-Year Old Improve Behavioral Problems, Diabetes & Weight Management!
Hi Miracle Noodle team!
I just wanted to share a different kind of transformation story with you.
My whole family eats low-carb despite the fact
that we are a pasta-loving family.
I have shared recipes with you before and my son, 
Steven, has shared his amazing transformation story with you.

He has now lost 78 lbs and he lives on Miracle Noodles.
I am down almost 60 lbs myself and have stayed off insulin and have almost reversed my diabetes.
We all live on Miracle Noodles.
Of course, because we love, love the taste,
but it is also a very fast and convenient meal to have on the table in minutes.
My latest story involves my daughter, Andrea.
She is 22 years old and is autistic.

She has (had) issues with anxiety, moodiness and aggression.

Recently, I read about an article about hyperinsulinemia and diabetes linked with autism. I decided to have my daughter's insulin levels checked.
Besides an indication of pre-diabetes, insulin levels can also affect a person's behavior.
To my horror, she had high insulin levels and was pre-diabetic!!
I knew why: because of her autism, she was a very picky eater and very limited to what she would eat, and was obsessed with pasta!
She had to eat linguine with clam sauce at least three times a week not to mention plain spaghetti.

She has an issue also with texture
and is not someone who is willing to try new foods.

I put her on a low-carb,
gluten-free diet immediately and at first it was hell. .
I have dropped 2 of 3 high blood pressure pills
and am in better health than I've been in for a long time.
But I knew I had your noodles and couldn't wait to try it,
but I admit I was worried about the different texture.

So I made her linguine with clam sauce
and set it down and crossed my fingers!!

She ate the whole bowl without one word!!! I almost cried!
Again and again I have been giving her the Miracle Noodles and she never even noticed the difference.

She now knows she's eating shirataki noodles. She specifically asks for it.

She knows these are her special low-carb noodles!!
Her diet modification started earlier this year.

About 6 months later, I had her insulin levels rechecked.
They are now normal!! She also has lost 27lbs (see her before/after pics).
But the biggest transformation is her behavior.
Her aggressive behavior is practically non-existent!!
She is very pleasant and hardly ever moody!!
We are currently adjusting and lowering her meds!!
I love the fact that your noodles are soy-free, too.
(I don't feel comfortable with soy, especially for me being older.)

Your product has changed my whole family's' lives.

I wanted to thank you so much for such a wonderful product and for being a very big part for helping my whole family, especially my daughter!! We are all different people now!!*