Fettuccine with Shrimp, Carrot Ribbons, and Dill Sauce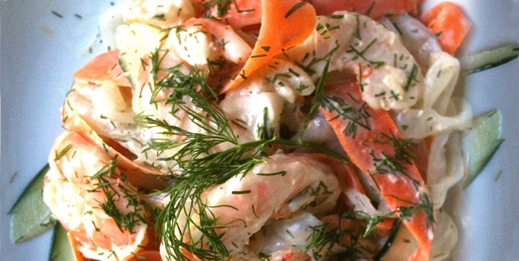 Making the carrot and cucumber ribbons is simple. All you need is a sharp vegetable peeler. Round out this satisfying and somewhat Scandinavian main course with fresh bakery pumpernickel bread or rye bread. It's an extra step, but the shrimp are halved lengthwise to make them a bit more delicate like the other ingredients. If you don't have or forgot to buy the shrimp, just substitute thin strips of smoked salmon (not lox) for an equally good dish.
Ingredients
2 servings
4 slender carrots (about 11 ounces), peeled
1 7-inch-long regular cucumber, scrubbed, dried, quartered lengthwise
½ cup plain nonfat Greek yogurt
3 tablespoons finely chopped fresh dill
1 tablespoon distilled white vinegar
2 teaspoons prepared white cream-style horseradish
11/2 teaspoons extra-virgin olive oil
¼ teaspoon (or more) kosher salt
1/8 teaspoon dry mustard powder
Large pinch (or more) of freshly ground black pepper
12 cooked, peeled, deveined shrimp (4 to 5 ounces), each halved lengthwise
Method
Prepare the fettuccine according to the package directions and set aside.
Bring large saucepan of water to a boil. Place 1 carrot along the edge of a cutting board. Hold the carrot by about 2-inches of the thin end. Using a vegetable peeler, shave towards the fat end, forming ribbons, and turning carrot if ribbons become too wide (discard thin end). Repeat with remaining carrots. Stir some salt and the carrot ribbons into the boiling water. Boil 1 minute, or until crisp-tender. Drain; rinse with cold water to cool quickly and drain again. Spread ribbons out on paper towels which will absorb excess moisture.
Spoon out the seeds from 1 cucumber quarter (reserve the remaining cucumber for another use). Starting at one end and using a vegetable peeler, shave down long side of the cucumber wedge, forming ribbons that have a sliver of skin on 1 long edge. Wrap ribbons in a paper towel to absorb excess moisture.
Whisk the yogurt, dill, vinegar, horseradish, oil, ¼ teaspoon salt, mustard, and pinch of pepper in a small bowl to blend. Season the sauce with more salt and pepper, if desired.
Place the fettuccine, carrot ribbons, cucumber ribbons, shrimp, and most of the dressing in a large bowl; toss to combine. Add more dressing to taste. Divide the mixture between 2 wide shallow bowls and serve, passing any remaining dressing.
Nutritional Info
Food
Miracle Noodles
Carrots
Cucumber
Yogurt
Dill
Vinegar
Horseradish
Oil
Mustard
Shrimp
Total
Per Serving
Fat Gms
0
0
0.2
0
0
0
0
7
0.2
1.5
8.9
4.45
Calories
0
89
13
70
0
0
0
60
3.2
120
355.2
177.6
Carbohydrates Gms
0
18.9
3.1
5
1.4
0
0
0
0.12
0
28.52
14.26
Protein Gms
0
0
0.5
12
0
0
0
0
0.2
27
39.7
19.85