Grilled Halibut with Puttanesca Salsa and Parmesan Miracle Noodles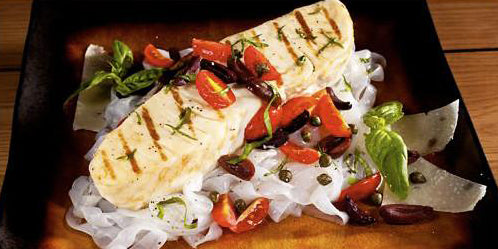 Preparation Time:
10 minutes
Adapted from a recipe found in Fitness Magazine May 2010 issue
Ingredients
½ cup fat free low-sodium chicken broth.
¼ cup of dry white wine.
1/2 tablespoon dark sesame oil.
2 tbsp freshly grated parmesan cheese.
4-6 halibut fillets.
4 teaspoons olive oil.
1-2 teaspoons of salt.
1 pint grape tomatoes quartered.
8 large pitted Kalamata olives slivered?1 tablespoon drains capers.
1/8 teaspoon crushed red pepper
2 tablespoons slivered fresh basil
Method
Open Miracle Noodle bag and empty noodles into a colander, draining the water that they are packed in. Boil noodles for one minute, drain and squeeze out excess water with a hand towel and set aside. In a medium saucepan, heat 1 tbsp of olive oil and then sauté 3 cloves of minced garlic for about 30 seconds. Then add noodle and ?toss in the olive oil and garlic. Add ½ cup of chicken stock and ¼ cup of dry white wine to the noodles and simmer for approx. 3-5 minutes.
Season with salt and pepper to taste and sprinkle Parmesan cheese on top.
While noodles are cooking heat a grill pan over medium high heat. Brush the halibut with 2 teaspoons of olive oil and season with a ¼ teaspoon of the salt. You can also add a sprinkling of pepper to this if you wish (I did) Grill until just cooked through, 3-4 minutes per side. Transfer to platter.
Combine the tomatoes, olives and capers in a medium bowl. Warm the remaining olive oil in a small skillet over medium heat. Add the remaining garlic and red pepper ; sauté until just fragrant, about 30 seconds. Stir in remaining salt.
Toss garlic with tomato mixture. Add basil and toss well.
Serve the fish over the noodles and top with the Puttanesca Salsa.
Nutritional Info: Serving Size - 1 Halibut Fillet with Noodles - Calories 290
Total Fat 9.9g
Saturated Fat 1.7g
Cholesterol 67mg
Sodium 1312
Carbs 1.5g
Protein 43.6