Anne's Spicy Shirataki Fettuccine Noodles & Cheesy Steamed Purple Cabbage and Broccoli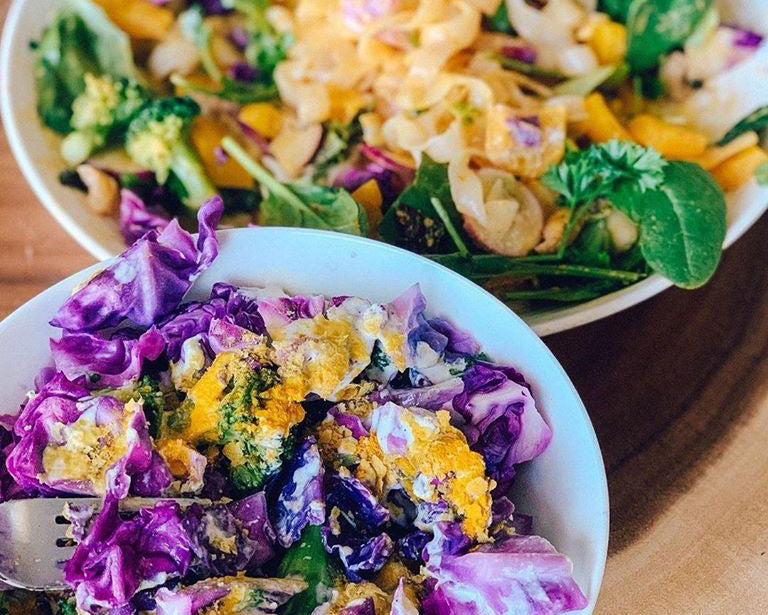 Are you living a vegan or vegetarian lifestyle? Anne is showing us how living a plant-based diet can be delicious and filling, and how much fun our noodles add to a meal!
"Take control of your own health by knowing exactly what goes into your body. Food is fuel. And the human body is very intelligent. So how would you like your food to communicate with your body? Let's create a healthy story."
⠀⠀⠀⠀⠀⠀⠀⠀
Recipe by Anne Marshall AKA @foodmarshall on Instagram.


INGREDIENTS:
1 bag of Miracle Noodle Fettuccine
1 cup of purple cabbage, shredded and lightly steamed
1 cup of broccoli florets, lightly steamed
1/2 cup mushrooms (I used oyster mushrooms), lightly steamed
1 orange bell pepper, diced
1 cup of spinach leaves
3 baby radishes, sliced
1 handful of fresh parsley, cilantro, and sprouts, chopped
DIRECTIONS:
1. Lightly steam purple cabbage, broccoli florets, and mushrooms.
2. Meanwhile, rinse Miracle Noodle Fettuccine and then place them in a pot of boiling water for 5 minutes. Drain.
3. Combine ingredients in a large bowl and mix.
THE SAUCE:

Whisk together the following ingredients.
2-3 tbsp raw tahini
2 tbsp nutritional yeast
1-2 tbsp coconut aminos
1-2 tbsp coconut vinegar
1 tsp turmeric powder
1 tsp cumin
2-3 tsp hot sauce (or more depending on desired spice level)
Juice of 1 lemon or lime
Optional add-ins: a clove of garlic and chopped onion
Find this recipe along with other savory (or sweet!) plant-based meals at iamfoodmarshall.com.