Asian Buddha Bowl with Quinoa-Chili-Balls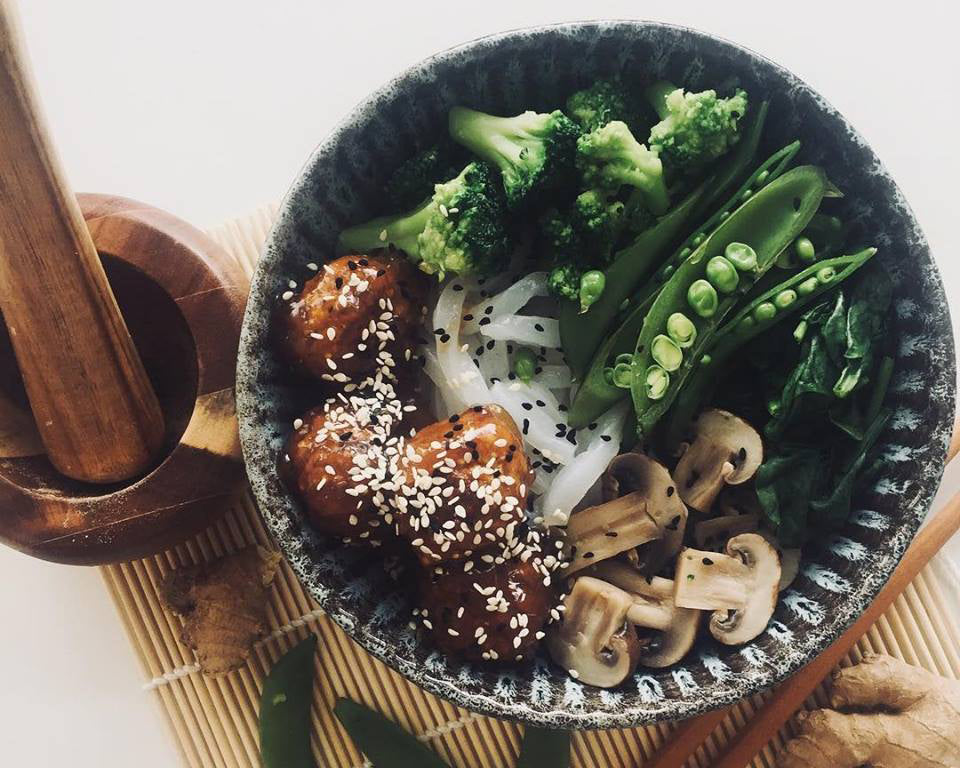 Craving for some Asian comfort food? Check out this cool dinner idea: Asian Buddha Bowl
 

with quinoa-chili-balls coated in teriyaki-sauce. Yum!

INGREDIENTS: Quinoa-Chili-Balls

1 cup quinoa
1/2 cup courgette
1 finely grated carrot
2 cloves of garlic
1/2 cup of vegan cheese (or just regular) 
4 "flaxseed-eggs" or regular
Parsley, chili, salt, and pepper 
Oil of choice for frying
Note: If the mass is too liquid-like, then add a couple of tablespoons of flour.

DIRECTIONS: Quinoa-Chili-Balls

1. Combine all ingredients and form info balls.
2. Fry in a pan in your preferred oil (I used coconut).

DIRECTIONS: Miracle Noodle Ziti

1. Open package. Rinse for 1 minute in a strainer. Drain
2. Add Miracle Noodle to a pot of boiling water for 2 minutes. 
3. Strain and return noodles to the empty hot pot, and dry the noodles till all water is absorbed. Set aside for assembly with dish.

INGREDIENTS: Teriyaki Sauce

2 tablespoons of tamari sauce
1-2 tablespoons of honey
Fresh, finely grated ginger
1 tablespoon of cornstarch

DIRECTIONS: Teriyaki Sauce

1. Mix tamari sauce, honey, fresh finely grated ginger, and cornstarch.

2. Heat up the mixture in a pan until it thickens. 

3. Cover your quinoa-balls with the thick teriyaki-sauce and drizzle with sesame seeds.

4. Serve with the amazing Miracle Noodle Ziti and steamed greens!